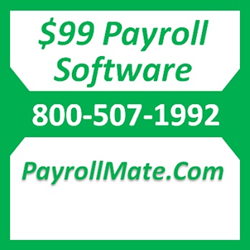 Free Payroll Software Trial Available from Payrollmate.com or by calling 1-800-507-1992
Chicago, IL (PRWEB) January 12, 2015
2015 Income Tax Withholding and Payroll System by PayrollMate.com Simplifies Paycheck Processing for Periodic and Non-periodic Payments
Payroll Mate® software gives small business owners the tools they need to process 2015 payroll in house and comply with the latest tax tables and formulas both at the federal and state level. More details at http://www.Payroll-Mate.com/ .
Over the last few weeks the IRS and many state departments of taxation have released new income tax and payroll withholding guides for use by employers and payroll departments nationwide. 2015 Payroll Mate payroll software has been updated to include the latest tax tables and other changes to make payroll processing easier for the software users. Free trial download of Payroll Mate is available from http://www.Payroll-Mate.com/ or by calling 1-800-507-1992.
2015 Payroll Mate simplifies running payroll for periodic and non-periodic payments, W2 and 1099 employees, exempt and non-exempt wages, clergy payroll, farm payroll and many other special types of payroll processing. Payroll Mate can also export to many accounting applications including QuickBooks, Sage 50, Peachtree and more.
Paying employees accurately and on time is very critical for business owners. Many businesses spend too much time and effort writing payroll checks and trying to keep track of all the payroll laws and regulations. This process can be greatly simplified with the use of Payroll Mate payroll software. Payroll Mate is designed to be easy to use and operate. The payroll system provides a wealth of features including the ability to automatically calculate net pay, federal withholding tax, social security tax, Medicare, state and local payroll taxes. Payroll Mate also supports different types of payroll pay periods, prints checks, prepares payroll forms 941, 943, 940, 944, W-2, W-3, California DE-9 , California DE-9C , Florida RT-6, Texas C-3 , Texas C-4, New York NYS-45, Illinois 941 and Illinois UI-3/40. The payroll software allows unlimited tax categories, pre and post-tax deductions and unlimited pay rates per employee making it very flexible and powerful.
Payroll Mate software highlights:
Generates Direct Deposit Files;
Prints MICR checks on blank check stock;
Exports payroll data to Peachtree (Sage 50), Intuit QuickBooks, Microsoft Dynamics, Quicken, Microsoft Accounting and more;
Supports fulltime employees, part-time employees and independent contractors;
Automatically calculates federal and state payroll tax withholding;
Supports federal payroll forms and a number of state forms;
Supports different types of pay periods including weekly, biweekly, semimonthly and monthly;
Supports customizable payroll income, tax and deductions categories;
Supports payroll vacation and sick pay accrual;
Generates PDF pay-slips (electronic paystub).Eliminate paper, postage, and distribution costs;
Prints IRS 1099 and 1096 forms;
Supports employee-authorized payroll deductions and pretax salary reductions;
Supports income per mile and per piece;
Exports payroll reports to Excel, CSV and PDF;
Prints on Laser and Inkjet checks;
Generates comprehensive reports including payroll journal, tax liability and deposit requirement.
Give Payroll Mate software a test drive and see how easy and affordable processing payroll can be. Visit http://www.Payroll-Mate.com/