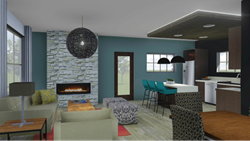 "We have a lot of interest and I'm excited to open our clubhouse and take customers on a tour so they can have a sneak peek inside," said Lisa Burns, Community Manager.
Beaverton, OR (PRWEB) February 13, 2015
Victory Flats at Elmonica Station, an all-new apartment community in the Portland, OR suburb of Beaverton, has reached a construction milestone with completion of its state-of-the-art clubhouse and beginning of hard-hat tours for prospective residents.
Beginning Saturday, February 14, 2015, visitors will be able to check out the brand new clubhouse with its 24-hour fitness center, Wi-Fi café & lounge, catering kitchen, and stone fireplace. The fully equipped fitness center will feature a wall-mounted TRX training system and an innovative Woodway® treadmill with a unique curved running surface and no motors or buttons.
Simpson Housing® LLLP, developer of Victory Flats, has started pre-leasing for move-ins beginning in April, and will be offering up to six weeks of free rent during the weekend of February 14-15. In addition to viewing the completed clubhouse, apartment seekers will be able to take hard hat tours of the community's distinctive one-, two- and three-bedroom apartments.
Located adjacent to the Elmonica/170th Avenue Max Station at 1345 SW 172nd Terrace, Victory Flats provides easy access to downtown Portland via MAX light rail and Nike World Headquarters, less than two miles away. Also nearby are Tualatin Hills Nature Park, Cedar Hills Shopping Center, Tanasbourne Town Center, and many of the coffee shops, restaurants, and boutiques that make Beaverton so enjoyable.
The community's 312 luxurious apartment homes will feature 42-inch espresso cabinets, granite countertops and backsplashes, stainless steel appliances, spacious laundry rooms, plank-style flooring and contemporary lighting. Victory Flats provides the only fully air-conditioned apartments in the Beaverton market.
In addition to the clubhouse and fitness center, Victory Flats will have a resort-style heated swimming pool and hot tub, covered outdoor kitchen and fireplace, outdoor ping pong court, dog park, and playground. Floor plans, pricing and contact information as well as directions to the Victory Flats can be found at http://www.victoryflats.com.
"We have a lot of interest and I'm excited to open our clubhouse and take customers on a tour so they can have a sneak peek inside," said Lisa Burns, Community Manager.
Simpson Property Group was recently awarded the coveted 2013 "A List" Award for Excellence in Customer Service for the 11th year in a row. The awards are presented, according to size, to the top companies in the multifamily real estate industry. Simpson Property Group, with over 65 communities operating or in development, has been recognized as the Category II winner for the past 11 years and is the only firm to achieve this number of consecutive wins in the history of the survey.
Simpson Property Group is a wholly owned subsidiary of Simpson Housing® LLLP (SHLP®). Headquartered in Denver, Colorado, SHLP is a fully integrated real estate firm providing services in multifamily and commercial property management, development and construction. Established in 1948, SHLP builds and operates high quality, residential communities throughout the United States and continues to expand.