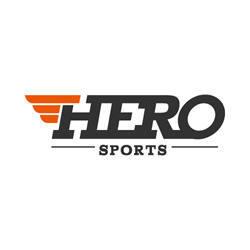 "As HERO Sports, we are now prepared to expand these services to new levels, effectively bringing much deserved attention and interest to ALL significant athletic achievements at the collegiate level." - Jordan D. Nilsen, CEO
Bellevue, Washington (PRWEB) July 03, 2015
BennettRank, the nation's leading purveyor of Division II and III collegiate sports news and information is evolving. On Monday, July 6, the organization is scheduled to unveil its new brand, HERO Sports™, and set out on a quest to become the most comprehensive provider of collegiate sports news across all divisions.
This announcement comes shortly after a successful Series A round of funding to support its strategic growth plan. This plan includes the introduction of original video content supported by an in-house production team.
"Across the nation, our customers recognize that BennettRank has made unparalleled strides in providing high-quality stories and news for colleges and universities at the DII and DIII level," said Jordan D. Nilsen, CEO. "As HERO Sports, we are now prepared to expand these services to new levels, effectively bringing much deserved attention and interest to ALL significant athletic achievements at the collegiate level."
"What's unique about HERO Sports is that any college, program or athlete can be featured, not just the 'Big 10 or SEC' schools," said Scott Herman, Senior Content Manager. "We strive to recognize and highlight everyone. We have a nationwide team of writers who are passionate about finding and celebrating great sports stories."
While HERO Sports will focus largely on developing original content and video programming, the company actively seeks out and encourages submissions from the public. "If there is a truly compelling success story from an obscure program that our readers feel is worth national attention, we want to hear about it," said Nilsen.
In order to make these submissions easier to share, HERO Sports features a user content submission tool on its website. Additionally, the organization accepts leads for newsworthy stories on social media through its Facebook, Instagram and Twitter accounts.
With the announcement of the new name, HERO Sports is introducing a new logo and visual identity. Viewers can expect to see a new look and feel to the organization's website. The new site is scheduled to launch in the fall, but users can begin to experience elements of the new direction by visiting the current site. Viewers will be able to see this new identity in action later this month with the debut of the organization's original video content.
About HERO Sports™
HERO Sports is the premier site for the most inclusive and comprehensive collegiate athletic program news and information. HERO Sports aims to elevate every newsworthy story of remarkable athletes, teams, coaches and fans of every division of every sports team nationally.