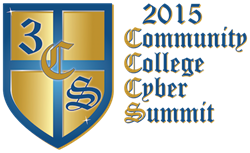 Las Vegas, Nevada (PRWEB) March 24, 2015
Every year, technology education and innovation advances so rapidly it makes it hard for community college cybersecurity educators to follow the latest trends in the classroom. That is why the Community College Cyber Summit (3CS) is valued as community college's one-stop-shop for cybersecurity education and offers top 10 reasons why cybersecurity educators shouldn't miss it.
Community college administration and faculty will be gathering on June 17th – 19th in Las Vegas, Nevada for the 2nd Annual 3CS. 3CS is the only national academic conference specifically geared towards cybersecurity education in community colleges. Here are the top 10 reasons why community colleges should not miss 3CS:
1.) Learn from national speakers who live and breathe the importance of cybersecurity.
2.) Have the opportunity to communicate with Department of Homeland Security, National Security Agency, National Science Foundations' ATE Centers and many more.
3.) Connect with helpful individuals providing valuable information to better community college's existing programs.
4.) Receive information on latest classroom technologies and cutting-edge curriculum.
5.) Be a part of an amazing atmosphere to network with peers.
6.) Engage and brainstorm in stimulating conversations with like-minded cybersecurity practitioners all in one location.
7.) Participate in relevant and hands-on workshops.
8.) Have access to an abundant amount of resources to implement into the classroom.
9.) Learn from professionals facing similar challenges in cybersecurity education.
10.) Gain knowledge from workshops that are specific to community colleges.
Community colleges are quickly moving to center stage in the national debate on higher education. Thanks to their small class sizes and teaching-oriented pedagogy, these institutions are leaders in every field of education related to cybersecurity. The cybersecurity industry recognizes the important impact community colleges have to educate young people to become the next generation of cybersecurity specialists.
To register for Community College Cyber Summit, go to http://www.regonline.com/2015communitycollegecybersummit.
About Community College Cyber Summit (3CS):
3CS is organized and produced by the National CyberWatch Center, National Resource Center for Systems Security and Information Assurance (CSSIA), CyberWatch West (CWW), Cyber Security Education Consortium (CSEC), and Advanced Cyberforensics Education Consortium (ACE), all funded by the National Science Foundation (NSF). The outcomes of 3CS will leverage community college's cybersecurity programs across the nation by introducing the latest and greatest of technologies, best practices, curricula, products and more. To learn more, go to: http://www.regonline.com/2015communitycollegecybersummit.