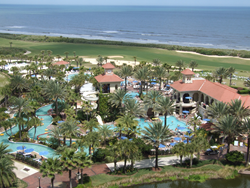 GERD, CKD, diabetes and Insomnia are just some of the lectures scheduled. It was designed with Primary Care practitioners in mind
Palm Coast, FL (PRWEB) March 11, 2015
The agenda for the 9th Annual Essentials in Primary Care Spring Conference Session II, which is being held at the Hammock Beach Resort in Palm Coast, has been finalized and released. The conference, which runs April 6-10, 2015, features morning lectures with afternoons free for the family medicine and internal medicine physicians, nurse practitioners and physician assistants who attend.
Barbara Lyons, VP of Education, says "GERD, CKD, diabetes and Insomnia are just some of the lectures scheduled. It was designed with Primary Care practitioners in mind.".
The agenda is as follows:
MONDAY April 6, 2015
8:00 – 9:00am GERD
9:00 – 10:00am Dysphagia
10:15 – 11:15am COPD: More Than Just Inhalers
11:15 – 12:15pm Insomnia: When You Just Can't Sleep On It
TUESDAY April 7, 2015
8:00 – 9:00am Diabetes, How To Use The New Medications
9:00 – 10:00am What is happening in Osteoporosis
10:15 – 11:15am An Update On Heart Failure: Sifting Through the Evidence
11:15am – 12:15pm Cases in Hypertension
WEDNESDAY April 8, 2015
8:00 – 9:00am Five Things I Wish I Knew Last Year
9:00 – 10:00am Successful Management of the Difficult Patient: Office Conflicts and Solutions
10:15 – 11:15am Primary Care Pearls
11:15am – 12:15pm Fibromyalgia Update
THURSDAY April 9, 2015
9:00 – 9:30am Everything You Need To Know About Knees: X-Rays, Exams and Injections
9:30- 10:00am Interactive Cases in Office Orthopedics
10:15 – 11:15am Cases in Rheumatology for the Primary Care Clinician
11:15am – 12:15pm Rheumatoid Arthritis
FRIDAY April 10, 2015
8:00 – 9:00am Chronic Kidney Disease: Everything that you need to know!
9:00 – 10:00am Cases in Nephrology for the Non-Nephrologist
10:15 – 12:15am New Drug Update
Session I of the Conference is being held the week before - March 30-April 3, 2015.
Visit the company website for more information about this and other Continuing Education Company sponsored CME Conferences.
Continuing Education Company, Inc. (CEC) is an independent, non-profit, 501 (c)(3) continuing medical education organization. They have been developing and presenting continuing medical education programs for over 23 years. Their mission is to develop and provide educational opportunities to improve the skills and knowledge of medical and healthcare professionals. They accomplish this mission by offering American Academy of Family Physicians (AAFP) accredited CME lectures, symposia, and conferences.
Educational activities are developed with the guidance of Continuing Education Company's Curriculum Advisory Committee. The committee, lead by their on-staff Medical Director is comprised of physicians, pharmacists, educators who have extensive clinical and CME experience.
The mission of Continuing Education Company, Inc. (CEC) is to improve public health by developing and providing educational opportunities to advance the skills and knowledge of physicians and other healthcare professionals. This mission is accomplished by assisting healthcare professionals in assessing their educational needs and providing them with evidence-based education which meet those needs.