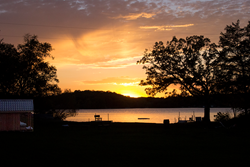 One attendee reported, "Better understanding the full-range of products will help me counsel my clients on the heat bathing system that is right for their needs."
Cokato, MN (PRWEB) September 30, 2015
Last week, Finnleo, a leading manufacturer of traditional and infrared saunas, hosted its annual sauna Dealer Training Camp for continuing education on sauna products, proper sauna design, and health benefits of heat bathing. In addition to becoming experts in product knowledge and benefits, attending dealers have an opportunity to experience a Finnish tradition of wood fired sauna and swim.
To meet the needs of sauna enthusiasts who visit their own showrooms, dealers attending the camp wanted to better understand how to assess the wants and needs of clients in order to help create the best sauna solution and meet the client's. Beginning with understanding the types of heat bathing available, traditional sauna, infrared sauna, InfraSauna, and steam showers, the dealers learned the features of each product to determine the best fit for each application.
From pre-fabricated infrared and traditional saunas to custom designed InfraSaunas, the Finnleo dealers were trained to match the construction application to the design and the desired health and wellness benefits to the type of heat bathing. One attendee reported, "Better understanding the full-range of products will help me counsel my clients on the heat bathing system that is right for their needs."
For many dealers, the highlight of the camp was the immersion into sauna culture by enjoying a lakeside sauna and swim. Set by a beautiful lake, dealers enjoyed a wood fired Finnleo outdoor sauna heated by a Finnleo Karhu sauna stove. Dealers who had never experienced a wood fired sauna followed by a swim in the lake were amazed at how refreshing and invigorating it felt. Many enjoyed several innings in the sauna, as is the tradition in Finland.
Finnleo is the leader in the US Sauna Industry and is committed to providing regular, personalized training to its nationwide network of dealers to ensure sauna enthusiasts throughout the country can get personalized assistance to find the perfect sauna solution to fit their own needs and desires. To learn more about sauna design, products, and traditions, contact Finnleo or a local Finnleo dealer or call 1-800-346-6536.