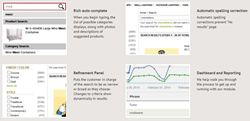 We are very pleased with the receptiveness of 3dcart online store owners.
SALT LAKE CITY, Utah (PRWEB) October 27, 2015
Convermax, a certified 3dcart partner, has released its new advanced site search app for 3dcart store owners. The Convermax app allows online merchants to extend basic search functionality and give shoppers improved capability for searching their stores. The software underwent rigorous testing by 3dcart to ensure its capabilities and compatibility with their platform.
Online shopping has increased exponentially, with today's sophisticated shoppers demanding better service. The Convermax app allows online businesses of all sizes to offer features such as auto-completion of search terms, misspelling corrections, filtering options and more. Guided options provide all types of shoppers with a quicker and more efficient means of identifying the correct merchandise, with the ability to make refinements throughout their search.
Alexey Shcherbachev, the Convermax CEO commented "We are very pleased with the receptiveness of 3dcart online store owners. The App Store makes it easy for them to get started with Convermax and their enthusiasm for the product is terrific. When they learn about exclusive features such as our proprietary color matching system Colormax they become even more excited."
About Convermax
Convermax is a full-featured , comprehensive e-Commerce site search engine tailor made for e-Commerce websites. The product implements true ecommerce search algorithms with a complete range of advanced site search features and benefits to deliver the results both shoppers and merchants need.
Built by some of the most expert and award winning ecommerce search engine technologists in the world, Convermax is simple to use while delivering fast, powerful results. Convermax is also the exclusive creator and vendor of Colormax, the proprietary color searching and color matching option that offers online merchants the ability to deliver fast, more relevant color selections to shoppers when color is a critical component of a sale.
About 3dcart
3dcart, located in Tamarac, Florida, is the all-in-one eCommerce solution for retailers to build, promote and grow their online stores. 3dcart's services include the best Technical Support in the industry, 100+ Mobile-Ready Themes featuring the latest technology, order management software, blog, email marketing tools and more. Since 1997, 3dcart has been building online stores for businesses of all sizes. Today, 3dcart is an Inc. 5000 company, a Visa PCI Certified provider and a Google Certified Partner.