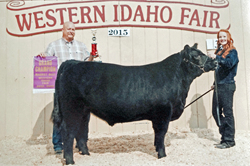 We are proud to be involved with local 4-H programs.
MERIDIAN, Idaho (PRWEB) September 23, 2015
The 4-H grand champion steers at this summer's Canyon County Fair and the Western Idaho Fair were raised on Dr. Jim Z's State Fair Steer Feed. The feed is produced here at The Feed Mill, purveyors of Dynamite Specialty Products and other all-natural feeds.
Both were entered by Annie Bass of Nampa.
"We have worked over the years to develop an outstanding steer feed and we are very proud of this," said Jos Zamzow, whose family has owned the Meridian Feed Mill since 1953. "We are proud and honored to be involved with the local 4-H programs."
Zamzow personally purchased the grand champion steer at the Western Idaho Fair.
"We have had the pleasure of manufacturing feed for many 4-H members who have raised grand champion animals, including sheep, hogs and steers, on our award-winning feeds," Stacy Boston said. Boston and Patrick Shenk manage the mill.
The Dr. Jim Z's State Fair Steer feed is produced in one-ton batches at the mill to ensure a high-quality fresh feed. The Dr. Jim Z's State Fair Steer Feed is a two-way sweet feed consisting of rolled barley and rolled corn, made into a specially designed supplement pellet that is fortified with protein, vitamins and minerals. It is designed for steers starting at age four months.
The Feed Mill manufactures feed for horses, cattle, poultry, swine, goats, sheep, llamas and small animals. It uses no urea, antibiotics, or meat and bone meal, and no pesticides are added to the grain or used on the premises.
The all-natural feeds at the mill were developed by Jim Zamzow. He also developed the Dr. Jim Z and Grandma Z lines of products at Zamzows garden and pet centers in Boise and the surrounding communities.
The Feed Mill is located at 611 N. Main St. here. Hours are 7 a.m. to 6 p.m. Monday through Thursday and 7 a.m. to 5 p.m. on Fridays. Additional information is available at meridianmill.com.