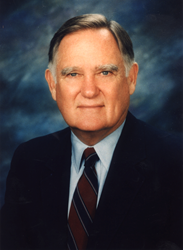 Polk City, Fla. (PRWEB) December 19, 2014
The USA Water Ski Foundation will honor the life of Howard "Bo" Callaway with a Special Lifetime Tribute at the 2015 Water Ski Hall of Fame Induction Ceremony on April 18th in Polk City, Florida.
The Special Lifetime Tribute is intended to recognize and celebrate the lives of persons who have made unparalleled contributions to the sport of water skiing –leaving behind an extraordinary legacy.
"Bo" Callaway, as he is known in the water ski world, was instrumental in creating Callaway Gardens and is the founder of the Masters Water Ski and Wakeboard Tournament. His vision when he established the Masters back in 1959 was to create a water ski tournament that would be as prestigious, ethical and revered as the Masters is to golf. He requested and received permission to use the same name from Augusta National. His vision became a reality; today the Masters Water Ski & Wakeboard Tournament™ is the most prestigious and highly coveted competition in the world to win.
The Masters has touched the lives of countless water skiers, wakeboarders, officials and fans over its 56 year history. Most of the Water Ski Hall of Fame Inductees and Award of Distinction members have taken part in the Masters in some capacity throughout the years. As the Masters water ski experience was the career highlight of numerous Hall of Famers, many of these water ski legends will be in attendance at the induction ceremony on the evening of April 18, 2015 to present the Callaway family this prestigious honor in celebration of the life of Bo Callaway.
Bo also served on the AWSA Board of directors for 11 years (1958-68), was president 61-63 and Chairman of the Board 63-66. He was elected an honorary national director in 1969. Intertwined within his life's work at Callaway Gardens, Bo was a U.S. Representative for Georgia. Bo served as Secretary of Army under President Nixon and President Ford. Georgia's Governor Nathan Deal has proclaimed March 19th as "Bo Callaway Day" in his recognition of his contribution to the State. Bo Callaway passed away on March 15th. He was 86 years old.
The Water Ski Hall of Fame is proud to honor and celebrate the life of Bo Callaway and the tremendous impact the Masters Water Ski and Wakeboard Tournament continues to have on the water ski and wakeboard community throughout the world.