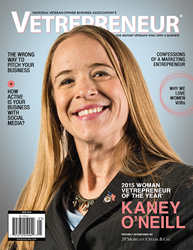 "I am honored to receive this award and am living proof that despite what challenges you may face in life anything is possible!," said Kaney O'Neill, 2015 Woman Vetrepreneur of the Year
Pittsburgh, PA (PRWEB) April 29, 2015
The National Veteran-Owned Business Association (NaVOBA) in partnership with JP Morgan Chase, is proud to announce that Kaney O'Neill, owner of ONeill Contractors, is the 2015 Woman Vetrepreneur of the Year®.
"Kaney is such an inspiration to women vetrepreneurs across the country," said Mimi Lohm, NaVOBA Vice President of Corporate Relations and Development. "She embodies the qualities that make military veterans so successful as entrepreneurs. We are proud to celebrate her success, her tenacity, her work ethic, and her ability to overcome challenges."
O'Neill suffered a terrible injury while serving in the Navy but instead of giving up, she refused to take no for an answer. Now, she's a successful woman business owner in a male-dominated industry and has set an ambitious goal to build on her success having landed contracts with Boeing, the U.S. Navy and the City of Seattle, just to name a few.
After recovering from her injuries, she went on countless interviews but struggled to find a job, despite the fact that she had bachelors and master's degrees from Northwestern University.
"Of course, I didn't know for sure, but I think when they saw the chair, they thought I couldn't do the job," she said. "I thought that if I had my own business, it wouldn't matter if I was in a wheelchair. I come from a family of roofers, so it made sense," she said. "I am honored to receive this award and am living proof that despite what challenges you may face in life anything is possible!"
Today O'Neill contractors has 18 employees and works on major contracts with the U.S. Department of Veterans Affairs, U.S. Army Corps of Engineers, and even worked on the Hines VA Hospital where she recuperated from her own injuries. To top it off, O'Neill Contractors, Inc. recently landed a multi-year contact with the Navy.
"We are very proud to present the 2015 Woman Vetrepreneur of the Year Award to Kaney O'Neill," said Kenneth Litton, JPMorgan Chase's Chief Procurement Officer. "JPMorgan Chase has a deep and long-term commitment to supporting veterans and veteran-owned businesses. Kaney's contributions to our nation are both inspiring and humbling. It is our honor to recognize her and her contributions to the business community."
NaVOBA and JP Morgan Chase will present O'Neill with her award at special ceremony as part of the 2015 Women's Business Enterprise National Council Annual Convention on June 23 in Austin, Texas. Joining O'Neill will be four other Woman Vetrepreneur of the Year finalists; Kristina Guerrero, owner of TurboPup, Paris Love, owner of the Paris Love Productivity Institute, Angela Cody-Rouget, owner of Major Mom, and Jo Ann Martinez, founder of Women Veterans Connect. Each woman's remarkable story is featured in the May issue of Vetrepreneur magazine.
# # #
About the National Veteran-Owned Business Association (NaVOBA):
NaVOBA unites the nation's 3 million businesses owned by military veterans by providing a single voice to advocate for important issues. For more information visit us on the web at http://www.navoba.com, or follow us on Facebook at http://www.facebook.com/navoba and on Twitter @NaVOBA.
For more information or to arrange interviews, contact:
BP Media Relations, LLC
Barbara Pflughaupt – 212-707-8181