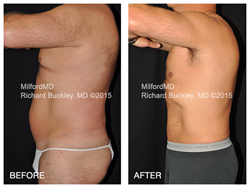 With our SmartLipo Triplex device, part of the laser beam under the skin can be directed upward. The laser light no longer just sucks out fat; rather, it's about contouring the body and tightening the skin, while the patient is comfortable and awake.
Milford, PA (PRWEB) March 24, 2016
Despite the popularity of noninvasive cosmetic options, liposuction remains today's most popular surgical procedure, and it's the only surgical procedure in the top 10 cosmetic procedures, overall, according to American Society for Aesthetic Plastic Surgery's March 2016 statistics.
Device manufacturers are fueling demand for noninvasive fat removal with heavy marketing efforts aimed at promising slimmer bodies with no surgery. But Dr. Richard Buckley, who performs both laser liposuction with SmartLipo, and noninvasive body contouring, says that comparing liposuction to noninvasive fat removal is like comparing apples to sesame seeds.
Dr. Buckley, a cosmetic surgeon and medical director of MilfordMD Cosmetic Dermatology Surgery and Laser Center, says liposuction has come a long way and remains the gold standard option for permanent fat removal.
"Historically, surgeons would use liposuction as a surgical procedure in the hospital, using big thick tools and incisions that would need to be closed. Patients back then endured a lot of downtime and recovery from general anesthesia," Dr. Buckley says. "That procedure would do nothing to tighten the skin because the devices were only meant to remove fat. But, then, along came lasers."
Researchers have long known that when physicians apply specific laser light to the outside of the skin, the skin gets tighter. They asked the question if lasers would have the same effect from under the skin and found they did.
"What that means to the patient is not only fat removal but also a more contoured and tightened result," Dr. Buckley says. "With our SmartLipo Triplex device, we have a side firing laser, so part of the laser beam under the skin can be directed upward. In essence, the laser light is tightening the underside of the skin. With the SmartLipo Triplex laser, it's no longer just sucking out fat; rather, it's about contouring the body and tightening the skin."
Today's SmartLipo technology allows experienced cosmetic surgeons to restore esthetic beauty by working on where they know a woman's curves should be. "It's sculpting. It's contouring. It's artwork," Dr. Buckley says.
To create true works of art, surgeons don't insert suction cannulas or laser fibers under the skin and spend all their time on the fat pocket. Instead, they treat entire areas, spending more or less time depending on an area's fat thickness.
Men and women who have laser liposuction with SmartLipo might want a more defined, sporty look, according to Dr. Buckley. "For that, we use state-of-the-art high-definition body sculpting. The high-definition result gives patients defined abdominal muscles, for example," he says.
Using SmartLipo, Dr. Buckley contours and sculpts many areas of the body from head to feet, including the face, chin, neck, male chest (known as gynecomastia), female breasts (for reduction), arms, bra bulges, back, abdomen, waist, hips, buttocks, inner and outer thighs, knees, calves, ankles, and more.
As for the old-fashioned general anesthesia and prolonged downtime, Dr. Buckley says those, too, have changed.
Today's liposculpting can be gentle, performed without general anesthesia with excellent results. "Tumescent anesthesia has revolutionized lipolysis (or liposuction), enabling us to sculpt patients' bodies while patients are awake," he says. "Today's laser liposuction procedure is considered minimally invasive, meaning there's very little downtime. Most patients need only a day or so before they're back to doing what they like to do."
About MilfordMD Cosmetic Dermatology Surgery & Laser Center:
The MilfordMD Cosmetic Dermatology Surgery & Laser Center offers state-of-the-art highly specialized procedures in laser and cosmetic surgery and aesthetic skin care. In addition to its extensive laser surgery capabilities, MilfordMD offers physician designed skin care products for home use. Milford Pennsylvania's MilfordMD Cosmetic Dermatology Surgery & Laser Center is sought out by patients from around the world for expertise and innovation in cosmetic treatments performed by Richard E. Buckley, M.D. and Marina Buckley, M.D.
MilfordMD Cosmetic Dermatology Surgery & Laser Center is located at 303 W. Harford Street, Milford, PA 18337. Tel: (800) 664-1528. For real patient video testimonials, visit our MilfordMD YouTube channel.