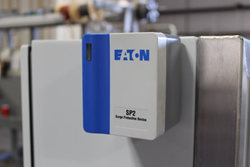 Orlando, FL (PRWEB) January 06, 2016
QuantumFlo, a leader in the pump technology industry, has employed Eaton SP2, its latest product update for all Prodigy, Genius and WisperFlo products. All orders will now come equipped with the state-of-the-art Eaton surge protection device. This device demonstrates QuantumFlo's continued desire and dedication to maintaining the highest level of performance and innovation through energy efficient and intelligent design.
As a lead manufacturer of variable speed pressure booster control, QuantumFlo is focused on their ability to strive toward excellence. As the national grid expands and new and retrofit construction continues to impact power balance, QuantumFlo recognized the opportunity to update their already intelligent systems even further.
"QuantumFlo saw the need for a simple, economical way to both reduce the impact of transient surges and protect the VFD from overvoltage due to erratic power sources," says QuantumFlo Founder and CEO, Dave Carrier.
Users of QuantumFlo pump systems will profit from the Eaton device's simple energy-saving technology. Unlike most manufacturers that use simple, sacrificial lighting arrestors, this device does far more than just protect against a one-time power surge. Eaton SP2 is designed not just for superior performance, but also for reducing costs and maximizing space, creating very little impact on QuantumFlo's pump designs.
As a recent awardee of the 2015 Small Business of the Year award from Daytona Regional Chamber of Commerce and numerous accolades in the last few years, QuantumFlo continues to be both a community and industry leader.
About QuantumFlo:
QuantumFlo is an industry leader in the manufacturing and distribution of advanced packaged pump systems and controls for commercial plumbing, HVAC, municipal, irrigation and industrial market applications. Our innovative pump technology includes aftermarket applications for the modification, upgrade and retrofit of aging or obsolete pumps systems. Based in Central Florida, QuantumFlo's energy and cost-saving products, including pre-packaged pump systems, water pressure boosters, and controls, are exported to more than 25 countries.
To learn more about QuantumFlo's intelligent products and solutions, please visit http://www.quantumflo.com.
Media Contact
Dave Carrier, CEO
386-753-9702
dave(at)quantumflo(dot)com
http://www.quantumflo.com