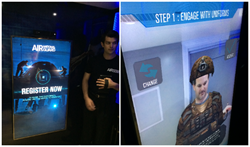 eshots was able to help streamline our onsite registration process and provided consistent and easy to digest data reporting for all of our events.
Chicago, IL (PRWEB) January 05, 2016
Chicago, IL-based eshots, Inc. was chosen as the winner of the "Interactivity/Engagement" category at the Integrating Marketing + Technology (IM+T) Awards, presented by Chief Marketer. Air National Guard (ANG) aimed to bring the experience of the armed forces to life through its mobile experiential activations. eshots worked with ANG's agency of record, LMO Advertising to create an engaging front-end experience that collected valuable consumer data, while integrating seamlessly with the clients backend tools. This integration allowed ANG to quickly follow-up with hand-raisers and while improving ANG's brand awareness.
eshots provided the following experiential technologies for Air National Guard:

Data capture with QuickCapture
Snapshot photo application
Photo retrieval microsite with photo sharing through Facebook, Twitter, SMS and email
Fully integrated Data Transfer
Post-event recap reporting and program insights
"We are so happy to help connect the Air National Guard with consumers in a fun and engaging way at their events," said eshots founder and CEO Craig Steensma. Mr. Steensma continued "The idea of bringing people a small taste of what it's like to be in the Air National Guard was really creative and we're happy to have been able to provide the necessary technology"
"eshots was able to help streamline our onsite registration process and provided consistent and easy to digest data reporting for all of our events. Their insights into our onsite numbers added a lot of value throughout the year as we evaluated our program. This year-long campaign has been a big success for ANG" said Phoebe Evans, Account Supervisor at LMO Advertising.
For more information about how eshots' technology, services and marketing science offerings can help you engage with your target consumers visit http://www.eshots.com or email [email protected]
ABOUT eshots
Founded in 1998 and headquartered in Chicago, IL, eshots, Inc. (http://eshots.com) is the leading event intelligence platform in the experiential marketing industry. eshots helps its clients to set and benchmark event strategies, maximize consumer lead capture and track/convert those leads into sales. eshots' team of consultative account specialists deliver enterprise clients with world-class technologies and solutions within a data-driven framework designed to maximize ROI around their events. eshots' clients include many respected enterprise brands, including Chrysler, Ford, General Motors, Jaguar-Land Rover, Mazda, Mercedes-Benz, Mitsubishi, Nationwide, State Farm and Keurig. Eshots helps its clients to capture millions of consumer leads from thousands of consumer events each year. The company received a net promoter score of 73 last year, placing it among some of the most respected brands in the world in terms of client satisfaction.
PRESS CONTACT:
Daniel Maurer
Marketing Manager
eshots, Inc.
312-253-1500
** Photos available upon request