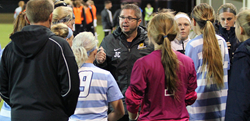 Spring Arbor, Mich. (PRWEB) January 06, 2016
Spring Arbor University women's soccer coach Jason Crist has been named the National Soccer Coaches Association of America (NSCAA) NAIA Women's Soccer National Coach of the Year.
Crist guided the Cougars to their first appearance in the NAIA National Championship Final in 2015 where they defeated the defending champs Lindsey Wilson College 3-0 to earn the program's first-ever NAIA national championship banner.
The 2015 campaign was a historic year for Crist and the Cougars. Not only did the team capture its first NAIA national title, but also received its first NAIA Top 25 No. 1 ranking, set a new single-season wins record (23), established the longest winning streak in SAU history (19) and scored the most goals in a single-season (83).
In addition to the national recognition, Crist was also named NSCAA NAIA Mideast Regional Coach of the Year for the fourth time, as well as the Crossroads League Coach of the Year for the sixth time after leading SAU to its sixth straight conference tournament title.
Under Crist's direction, Spring Arbor has made seven trips to the NAIA national tournament – six straight since 2010 – and owns an overall mark of 9-5-2 in NAIA championship postseason play. The Cougars have made four appearances in the Sweet 16, and advanced to the Final Four twice, including this season.
Crist has coached 11 NAIA All-Americans, including one National Player of the Year.
At the completion of the 2015 season, Crist ranked sixth among active NAIA coaches in wins with 257. In 16 seasons, he has compiled a record of 257-76-23.
Founded in 1941 and based in Kansas City, Mo., the National Soccer Coaches Association of America (NSCAA) is a non-profit organization with a mission to educate coaches, encourage excellence and serve the soccer community.
The NSCAA is the world's largest soccer coaches' organization with members at every level of the game, from professional to grassroots. The membership also includes administrators, referees and others in the soccer industry. The NSCAA provides its members opportunities to enhance the game of soccer by providing a national education program, interaction and networking opportunities, and membership benefits.
For more information about the National Soccer Coaches Association of America, visit NSCAA.com.