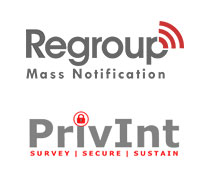 By combining their expertise and resources, these two industry front runners are enabling mutual clients to leverage award-winning mass communications technology with experienced and respected consultants.
San Francisco, CA (PRWEB) January 06, 2016
Regroup Mass Notification, the award-winning leader in emergency and mass notification technology, and PrivInt, risk management experts in business continuity and crisis management, have entered into a new partnership that will provide organizations with the technology and thought leadership necessary to manage disasters and disruptions and overcome them.
By combining their expertise and resources, these two industry front runners are enabling mutual clients to leverage award-winning mass communication technology with experienced and respected consultants.
"One of our main goals is to help clients become more resilient through our SUSTAIN | Resilience Management professional services spectrum. Now, through our partnership with Regroup, we can provide our clients with a robust and reliable multi-modal, mass communication tool that will provide business-essential emergency communication capabilities when they need it most," said Todd Bardin, Founder and Managing Director of PrivInt.
Regroup's powerful, yet easy-to-use mass communications platform is used by universities, state/local governments, corporations and nonprofits across North America to streamline emergency and day-to-day communications.
Their 'Intelligent, Full-Spectrum Risk Management Methodology' is focused on building sustainable continuity capabilities through any type of disruption, whether manmade or natural. Combined with Regroup's mass communication platform, our mutual clients will have all the tools they need to mitigate and successfully manage disruptive events," said Joe DiPasquale, Regroup's CEO.
About Regroup:
Regroup, the leading provider of Emergency and Mass Notification solutions and DRI 2015 Notification System of the Year, offers easy one-click messaging to mobile phones (text/voice), landlines, email, social media, websites and more. Regroup stands apart from other mass communication systems with its ease of use, automated messaging capabilities, seamless integration with client databases and other third-party systems, unparalleled 24/7 customer support and unlimited text/voice/email messaging.
To learn more about how Regroup's Emergency Notification System can provide rapid communications during a crisis, as well as streamline day-to-day communications, call 917-746-6776 or email inquiries(at)regroup(dot)com.
About PrivInt | Risk Management:
PrivInt is an internationally focused risk management advisory services firm that provides professional services to businesses who recognize that if they don't manage risk, it will manage them. We specialize in Private Intelligence services providing threat, security and resilience management through an intelligent, full-spectrum risk management methodology: SURVEY | SECURE | SUSTAIN.
Leveraging more than 50 years of combined professional experience gained in both public and private sector service, PrivInt enables businesses with professional expertise to help them SURVEY their risks; SECURE their people, information and property; and SUSTAIN their mission-essential operations against "all-hazards." To learn more about PrivInt, call 1.844.PrivInt (774-8468) or email info(at)privint(dot)com.