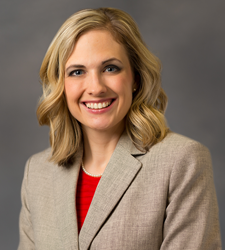 "I am honored to become a partner in such as well-respected firm, and I'm committed to continuing to achieve excellent results for our clients in the future."
Painesville, Ohio (PRWEB) January 06, 2016
Senior Partner and Head of Dworken & Bernstein's Class Action Department, Patrick J. Perotti is proud to announce that Nicole Fiorelli has been named a Partner is the NE Ohio law firm.
Nicole T. Fiorelli focuses her practice on Class Action and Wage & Hour Litigation. She has successfully litigated matters against large corporations in cases throughout the United States.
Dworken & Bernstein is nationally recognized as a leader in class action lawsuits as well as in individual and collective actions for violations of state and federal wage and hour laws.
Mrs. Fiorelli is also instrumental with her work utilizing the cy pres doctrine in her class action settlements. Cy pres means that money which a defendant commits for the settlement of a class action is not returned to the defendant if class members cannot be found, and instead is directed to charities and non-profits.
In a settlement, both sides reach an amount of compensation which they agree is fair. "A settlement is an agreement which has terms that are presented to the court," explained Mrs. Fiorelli. She typically will not settle a case without a cy pres provision. "Not all cases have leftover funds, but when they do, Dworken & Bernstein wants them distributed 'as nearly as possible' to the intended benefit."
Dworken & Bernstein Co., L.P.A. is the largest law firm in Lake, Geauga and Ashtabula Counties, Ohio with additional offices in downtown Cleveland. Serving the community for over 50 years, Dworken & Bernstein and its 30 lawyers and staff of 65 offers a full range of legal services for businesses, individuals, and families.
Further information about Dworken & Bernstein Co., L.P.A. can be found at http://www.dworkenlaw.com or Ohio Lawyers Give Back at http://www.ohiolawyersgiveback.org.