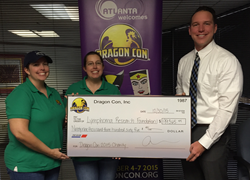 New York, NY (PRWEB) January 07, 2016
The Lymphoma Research Foundation (LRF) – the nation's largest non-profit organization devoted exclusively to funding innovative lymphoma research and serving the lymphoma community through a comprehensive series of education programs, outreach initiatives and patient services – today announced a major donation resulting from the Foundation's newest partnership with Dragon Con, the internationally known pop culture convention held each Labor Day in Atlanta.
Organized for fans, Dragon Con features more than 3,000 hours of comics, film, television, costuming, art, music and gaming over four days, drawing over 70,000 attendees from September 4-7, 2015.
"Selecting the Lymphoma Research Foundation as our official charity for 2015 was a very personal choice," said Rachel Reeves, Dragon Con co-chair. "We are grateful that organizations such as this are working hard to improve treatments and cures for this devastating disease."
Two long-time members of the Dragon Con family – Eugie Foster, Director of the Daily Dragon, and Mark Brown, Co-Director of Convention Operations – died from lymphoma in 2014 while a third member continues to battle the disease, the most common form of blood cancer.
Senior Leaders from the Lymphoma Research Foundation's New York headquarters were on hand in Atlanta on December 30, 2015 for the presentation of a generous $99,365.44 check. All funds will benefit LRF's innovative research programs in support of the Foundation's mission to eradicate lymphoma and serve those touched by this disease.
"On behalf of the entire lymphoma community, we wish to thank the Dragon Con family, especially the Foster Family and the Brown family, for their generous contribution to our shared mission," said Meghan Gutierrez, LRF Chief Executive Officer. "We are thrilled to have had the opportunity to participate in such an exceptional event, and look forward to continuing our work together with Dragon Con and their dedicated fans in an effort to eradicate lymphoma and to serve those touched by this disease."
About the Lymphoma Research Foundation
The Lymphoma Research Foundation (LRF) is the nation's largest non-profit organization devoted to funding innovative research and serving the lymphoma community through a comprehensive series of education programs, outreach initiatives and patient services. To date, LRF has awarded more than $57 million in lymphoma-specific research. For additional information on LRF's research, education and services, visit lymphoma.org.
###