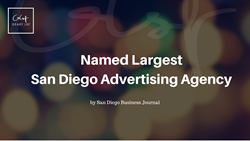 We're humbled to be recognized for contributing to our local marketing community.
San Diego, CA (PRWEB) January 07, 2016
Privately held digital marketing agency, Geary LSF, has risen through the ranks of San Diego-based advertising agencies to claim the spot as the second largest agency in San Diego County. The rankings, based on revenue generated within San Diego County, were recently published by third-party publication, San Diego Business Journal, in their annual Book of Lists.
The agency's growth, and subsequent recognition in the San Diego market, is attributed to the expansion of the San Diego client portfolio to include additional top enterprise brands, as well as to the agencies evolution as a strategic partner in omni-channel marketing. The agency's approach, coupled with an unparalleled team of experts, has allowed them to confidently lead their clients in integrated marketing.
"San Diego has become a community recognized in the marketing industry as a powerhouse that produces exceptional work for amazing clients," said Katie Colleton, Marketing Director for Geary LSF. "We're humbled to be recognized for contributing to our local marketing community and are looking forward to continued growth throughout 2016 and beyond."
Geary LSF has had a strong presence in the San Diego marketing community since the early 2000s and continues to grow the San Diego team. For more information on Geary LSF and their services, please email: info(at)gearylsf(dot)com
About Geary LSF
Geary LSF is a full service digital marketing agency headquartered in San Francisco, with additional offices in San Diego, Chicago, Boston, Philadelphia and St. Louis. Specializing in an omni-channel marketing approach, the team turns digital ambitions into business results for more than 450 brands worldwide including: Bumble Bee Foods, Target, Aramark and several others. For more information, please visit http://www.gearylsf.com.