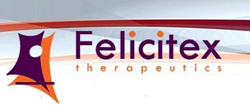 (PRWEB) January 08, 2016
Felicitex Therapeutics will be presenting their latest developments regarding its first-in-class therapy addressing quiescent cancer cells at the 8th Annual BioTech showcase conference in San Francisco on January 11th. Maria Vilenchik CEO and CSO and Marc Duey, Felicitex Board Member, will be presenting Felicitex's recent research on lead molecules designed to target quiescent cancer cells.
Felicitex Therapeutics' technology targets quiescent, non-responsive (resistant to therapy) cancer cells with two therapeutically beneficial outcomes - first making quiescent cancer cells vulnerable to conventional treatments and second preventing cancer cells from surviving in the quiescent state for indeterminate period of time and thereby delaying or eliminating cancer recurrence. Felicitex is focused on the development of treatments for the deadliest and difficult to treat cancers.
Felicitex Therapeutics was founded in 2012, and is a privately owned company based in Cambridge, Massachusetts with additional laboratories in Watertown, Massachusetts and Business Development in King of Prussia, Pennsylvania. For more information please visit http://www.felicitex.com.
If you have questions or interest in Felicitex's research, plans for an IND, and commercial development please contact:
Yash Shah, Director of Business Development (yashshah(at)prometrics.com; 610-265-6344 x229).
Marc Duey, Board Member (mduey(at)prometrics.com).
Maria Vilenchik, CEO and CSO (mvilenchik(at)felicitex.com)