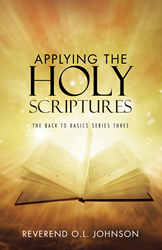 "Matthew 5:14-16 tells us we are the light of the world, and encourages us to let our light shine before men, encouraging us to spread Christian intervention to those around us."
LOS ANGELES (PRWEB) January 11, 2016
Many people see scripture as a collection of old, antiquated stories that have no meaning today, but Revered O.L. Johnson says everyone, regardless of religious beliefs, must know the relevance of scripture to live the best quality of life.
After completing 30 years of public service with the LAPD, Johnson was called into the teaching and preaching ministry. Though he was done facing the high risk of solving dangerous urban crime in LA, he wanted to continue to serve his public in the name of the Lord.
Applying The Holy Scriptures, the third part of Johnson's Back to Basics series, is written as a guide of self-discovery to anyone, regardless of religious affiliation, seeking to find relevance within the messages of the Bible to readers' personal lives today.
Johnson touches on several themes including how 'The Lost Stay Lost Without Christian Intervention' and 'Your Words Speak Volumes About Your Character'. By pinpointing scripture that underlies these themes, readers are called to live and act upon the word of the Lord.
"Matthew 5:14-16 tells us we are the light of the world, and encourages us to let our light shine before men, encouraging us to spread Christian intervention to those around us," Johnson said. "This is a great example of how God asks us to take a call-to-action through scripture."
For more information, visit: westbowpress.com
Applying The Holy Scriptures
By Reverend O.L. Johnson
ISBN: 978-1-4908-8187-4
Available in softcover, hardcover, e-book
Available on Amazon, Barnes & Noble and westbowpress.com
About the author
Reverend O.L. Johnson is an ordained Baptist minister and an associate pastor of his home church, the Greater New Zion Baptist Church in Los Angeles, Calif. Johnson is also the founder of the teaching ministry "Practical Approach Ministries", which focuses on scriptural teachings within the format of seminars titled "Scripture Boot Camp Seminars."