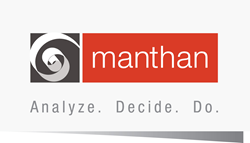 Hortonworks' trusted, expert Hadoop services complement Manthan's deep expertise and experience with enterprise BI solutions to deliver best in class Big Data Analytics to customers - VP, Strategic Marketing, Hortonworks
Santa Clara, CA (PRWEB) January 12, 2016
Manthan, a global leader in analytics, has announced a new technology partnership with Hortonworks, the leader in Open Enterprise Apache™ Hadoop®. As a Hortonworks Certified Technology Partner, Manthan's packaged analytics solutions on the Hortonworks Data Platform enable customers to get the fastest ROI on their Hadoop investments.
Manthan is a pioneer in packaged analytics solutions for consumer connect industries, which empower business users with analytics driven insights for superior decision making. Its Big Data and Analytics solutions are architected with deep industry expertise, for quick deployment and rapid adoption, enabling its customers to leapfrog multiple levels of analytics maturity.
Manthan's suite of analytics solutions are now fully integrated with the Hortonworks Data Platform (HDP) leveraging the power of Open Enterprise Hadoop ®. HDP powers Manthan's analytics platform, which analyzes large volumes of multi-structured data and runs machine learning algorithms at scale, to provide real-time insights and dashboards for business users.
For example, Manthan has optimized its customer marketing analytics product, Customer360, on the Hortonworks Data Platform to run its vast array of pre-built algorithms on Apache Spark. This enables modern marketers to process terabytes of structured and unstructured data and to take decisions on campaigns, cross sell/ up sell opportunities, churn predictions etc., across the marketing lifecycle in minutes.
"Hortonworks' trusted, expert Hadoop services complement Manthan's deep expertise and experience with enterprise BI solutions to deliver best in class Big Data Analytics to customers. This partnership will help businesses make the most of their data and gain a competitive edge in the market. We welcome Manthan to the Hortonworks Technology Partner Program and look forward to working with them to help strengthen Hadoop's role as the foundation of the next-generation data architecture." said John Kreisa, Vice President, Strategic Marketing, Hortonworks.
Manthan's clients across retail, hospitality and online businesses are seeing considerable business value from its unique blend of advanced analytics, enterprise BI and decision making capabilities. The partnership with Hortonworks will be a step forward in Manthan's evolving big data strategy.
"Manthan's partnership with Hortonworks ensures that every business user has access to cutting edge Big Data Analytics. With Manthan's pre-built algorithms and advanced analytics, on Hortonworks' industry leading Big Data platform, our customers can now make every decision the best possible one in the quickest amount of time" said Atul Batra, CTO, Manthan.
"Manthan has a depth and breadth of industry specific content for retail, CPG and other consumer connect industries. When combined with the future-proof flexibility of the Hortonworks Hadoop Data Platform, retailers and consumer products organizations can accelerate their time to value. We look forward to helping customers maximize their business impact through this exciting partnership." added Eric Thorsen, General Manager - CPG and Retail, HortonWorks.
Manthan will be showcasing its award winning analytics innovations at the National Retail Federation (NRF) Convention & Expo that will be held on January 17-20, 2016 at New York City's Jacob K. Javits Convention Center. Meet Manthan's Analytics experts at booth #3751 at the NRF Convention & Expo.
------------------------
About Manthan :
Manthan is the Chief Analytics Officer for consumer industries worldwide. Manthan's portfolio of analytics-enabled business applications, advanced analytics platforms and solutions are architected to help users across industries walk the complete data-to-result path - analyze, take guided decisions and execute these decisions real-time. Sophisticated, yet intuitive analytical capability coupled with the power of big data, mobility and cloud computing, brings users business-ready applications that provide on-demand access and real-time execution - the only path to profit in a contemporary, on-demand and connected economy. Manthan is one of the most awarded analytics innovators among analysts and customers alike. To see how your business can gain from analytics, visit manthan.com.
Reach out to Manthan on Twitter, Facebook, or LinkedIn.