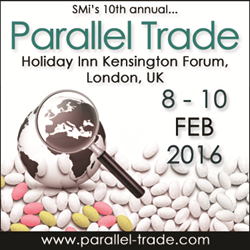 ''To review who will attend the show this February, please visit www.parallel-trade.com'' SMi Group Ltd
Lodon, UK (PRWEB UK) 12 January 2016
SMi Group Reports(12.01.2015): There is now 4 weeks left before the Conference.
SMi Group has now release the list of attendees. To review who will attend the show this February, please visit: http://www.parallel-trade.com
This must attend event will include case studies, panel discussions, keynote addresses and 2 exclusive workshops to provide you with insight and forecast for the 2016 market. It will enable you to review regional markets' parallel trade activities and outlooks, understand the rationale and strategy of parallel distributors and much more.
Key speakers in 2016 include: Shire International, Quintiles, Apotek Hjartat, Lundbeck, IGES, Alliance Healthcare Distribution, ISPOR Srbija, National Pharmacy Association, Nippon Bells Pharma Bulgaria, Europe Economics, and many more!
To register today please visit: http://www.parallel-trade.com
Alternatively, contact Fateja Begum: +44 (0) 20 7827 6184/ fbegum(at)smi-online(dot)co.uk
In addition to the event, there will be two interactive post-conference workshops:
A: Parallel Trade - Management Strategies, led by Quintiles, will help to re-assess the best strategy and option suitable to your business including pricing and supply management
B: Understanding Regulatory and Legal Issues Around Parallel Distribution, led by Rouse Legal, will provide an interactive environment with practical examples for delegates to learn about scenario planning as well as in-depth snapshot of regional pharmaceutical markets.
Last year's conference was sold out – make sure you get in touch with us as soon as possible to secure your attendance!
For more information please visit: http://www.parallel-trade.com
For sponsorship opportunities contact Alia Malick on +44 (0) 20 7827 6168 or email: amalick(at)smi-online(dot)co.uk
To register contact Fateja Begum on +44 (0) 20 7827 6184 or email: fbegum(at)smi-online(dot)co.uk
------------------------- END --------------------------
About SMi Group:
Established since 1993, the SMi Group is a global event-production company that specializes in Business-to-Business Conferences, Workshops, Masterclasses and online Communities. We create and deliver events in the Defence, Security, Energy, Utilities, Finance and Pharmaceutical industries. We pride ourselves on having access to the world's most forward thinking opinion leaders and visionaries, allowing us to bring our communities together to Learn, Engage, Share and Network. More information can be found at http://www.smi-online.co.uk