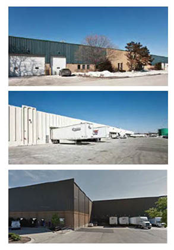 Los Angeles, CA (PRWEB) January 13, 2016
Hackman Capital Partners, LLC, a Los-Angeles-based real estate investment firm with ties to the Midwest, confirmed today the purchase of a 906,984-square-foot industrial real estate portfolio. The portfolio contains six buildings located throughout metro Chicago with concentrations near O'Hare International Airport and Chicago Midway International Airport. The properties were purchased by a Hackman Capital affiliate.
The buildings, five of which are multi-tenant buildings, are 89% occupied.
"We're thrilled to be entering the Chicago market," said Michael Hackman, Hackman Capital's founder and CEO. "The acquisition gives us opportunity to boost our strong Midwest presence in one of the largest and most dynamic industrial markets in the country."
With the recent Chicago acquisition, Hackman Capital's Midwest presence represents approximately seven-million square feet of the 25-million-square-foot portfolio owned by its various affiliates. The bulk of those Midwest properties are located in Ohio and Michigan, which totals 68 buildings, with 255 tenant spaces. The company manages the Midwest properties from its regional office in Columbus, Ohio.
"These are solid buildings with committed tenants in strong infill locations," said Managing Director David Smith, who oversees the Columbus office. "Offering abundant loading and parking, good clear heights, ample offices and other amenities, the properties will continue to be strong competitors in their respective submarkets."
According to Smith, the company plans to make any necessary capital improvements to lease up the 11% vacancy across two of the six buildings. To help market the available space, Hackman Capital has retained Pete Roberson and Larry Johnson of CBRE and Kenneth Franzese of Lee & Associates. Colliers International has been retained as the property management group.
Hackman Capital extends special recognition to Michael Caprile, Ted Staszak and Stephanife Park of CBRE who represented the seller in the acquisition.
More About Hackman Capital Partners, LLC
Founded in 1986 and headquartered in Los Angeles, Hackman Capital Partners is a privately held, asset-based investment firm that focuses on the acquisition of industrial real estate and the purchase and sale of industrial equipment. The firm currently owns, through its affiliated entities, more than 200 properties throughout the United States, totaling approximately 25 million square feet and representing more than $1 billion in assets. With more than 29 years of experience in acquisition, redevelopment and asset management, Hackman Capital Partners is known across marketplaces for its ability to successfully navigate complex transactions and financial restructurings involving real estate and equipment. For more information, visit hackmancapital.com.