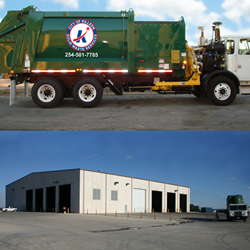 Killeen, TX (PRWEB) April 20, 2016
SCS Engineers was commissioned by the City of Killeen, Texas to study and design a solid waste master plan and rate study to reach the City's efficiency goals. The collaborative effort between the City and SCS has culminated in a long-term financial roadmap and planning tool, which evaluates the impact of operational expenses and provides a basis for planning capital expenditures. The plan is already in use by the City's decision-makers to determine the efficiency of investing in equipment and a Material Recovery Facility (MRF) as part of a waste management plan.
Population projections, demographics, cost and historical data, among other resources, make up the compiled information that is then organized and analyzed to prepare projections based on changing scenarios over a period of years. In Killeen, decision-makers relied on the business and technical capabilities that SCS professionals brought to the project including conducting a detailed cost of service – rate study as part of the overall project. This type of economic study enables the planning team on any proposed project to provide a "what if" analysis for the decision-makers with the potential impact a proposal may have on customer rates and fees. To build this type of business analysis requires technical expertise in the many aspects of waste management from the collection to sorting and recycling and environmental policy.
Operational expenses such as replacing collection vehicles, considering and implementing recycling programs, and the impact of stricter environmental regulatory programs can all affect collection fees and the quality of service. The City worked with SCS Engineers to create a 20-year master plan with modeling capabilities to determine the optimum scenarios that benefit the surrounding communities and one that helps manage environmental safety and the outlay of capital before the expense of planning, designing, and building begins. Key outputs of this study included the justification for the City's acquiring new collection equipment and further assessment of the feasibility of implementing single-stream recycling.
"Many of our clients face a similar challenge, so we dug deeply into all pertinent facets that drive the logistics of waste management for Killeen," said Kevin Yard, a Vice President and Director of the South-Central Regional SCS team. "Then we delivered a system for decision-makers to use for many years encompassing virtually any set of conditions that present a financial, environmental, or quality challenge to managing wastes."
About SCS Engineers
SCS Engineers' environmental solutions are a direct result of our experience and dedication to solid waste management and other industries responsible for safeguarding the environment. For more information about SCS, please visit our website at SCSEngineers.