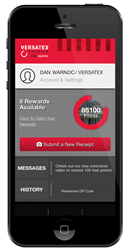 "With our new Premier Builder App, all you have to do is grab your phone or tablet, and take a photo of your proof of purchase," says Versatex Sales and Marketing VP Rick Kapres
Pittsburgh PA (PRWEB) January 12, 2016
Simply by snapping photos of paid invoices or sales receipts, contractors now can earn loyalty reward points for purchasing cellular PVC trim components made by Versatex Building Products, LLC.This photo submission process is unique to the industry.
That's because, beginning immediately, builders and renovators are able to download a new smartphone loyalty app that captures and tracks images of sales slips from Versatex dealers.
"Our original Builder's Club loyalty program was a hit when we rolled it out in 2007," says Versatex Sales and Marketing VP Rick Kapres, who will unveil this new loyalty app at the International Builders' Show in Las Vegas January 19-21. "But contractors are busy people. Ordinarily, the last item on their to-do lists is 'Organize, scan, record and send in a stack of receipts.'
"But now, thanks to our new Premier Builder App, all you have to do is grab your phone or tablet, shoot your proof of purchase, and forget about it. Then you can check your point balance, earn more points for activities like training, and redeem points for a variety of rewards, any time you like."
Points can be redeemed for rewards that include high-end tools, electronics, sports and recreation equipment, and more. "Additionally, we want to help contractors grow through this program. We've been providing marketing support to distributors and dealers for years, and this program will now allow us to extend that support to the contractor level. Lifetime points, regardless of how many you've redeemed for rewards, will determine your program status. Escalating statuses come with marketing perks such as certificates, truck signs, T-shirts and development and consultation on things like print collateral, project photo libraries, websites and social media," he said.
"It's simple and intuitive. You just download the app from Google Play (for Android) or the App Store (for iOS). The interface makes enrollment quick, and navigation is easy. Any Versatex purchase from two weeks before your enrollment onward will qualify for points. You'll never have to carry or swipe a plastic loyalty card again.
"And you won't have the headache of translating dollars to percentages to points, as some rewards programs still ask you to do. You earn one point for every dollar you spend — that's all there is to it."
Mr. Kapres said retailers who sell Versatex products have welcomed the Premier Builder App program. "According to the feedback so far, they already recognize it as a painless way to build business," he said. "Every dealer and distributor has a different invoicing system. But the beauty of our program is that it standardizes everything that customers upload. Retailers don't have to take on any new chores or tinker with their processes at all.
"At the same time, Premier Builder will recognize customer locations. That's handy if, let's say, XYZ Lumber Co. joins our dealer network today. We can instantly send a message to every Premier Builder user within a 20-mile radius, letting them know they have a new resource nearby, and alerting them to chances for bonus points and special deals.
"The same connectivity will give us a 'news you can use' channel to contractors, enabling them to earn education and training reward points while they learn about new products or installation techniques."
The new app joins a growing family of builder-oriented Versatex digital initiatives, such as an installation video library (accessible via the mobile website versatexpert.com), a free, mobile-app version of the popular Versatex Contractor Handbook, which has long been a trusted source of techniques and technical data.
"As the leaders in PVC trim education, we're going to keep pushing the envelope on mobile technology. Our goal is to get our residential construction expertise out via every platform our customers use," Mr. Kapres said.
About VERSATEX
Weather-resistant, long-lasting VERSATEX trim materials and systems are manufactured by Versatex Building Products, LLC, of Pittsburgh, Pa., where state-of-the-art facilities produce cellular PVC extrusion products such as VERSATEX trimboards, sheet, bead board, moldings and prefabricated corners; the innovative VERSATEX soffit system; and the new, dimensionally compatible VERSATEX Max nominal 2-by boards. Details are posted at http://www.versatex.com.