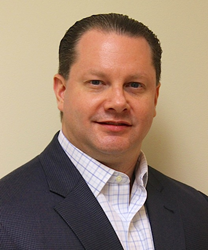 What attracted me to Michael Management Corporation was the opportunity to join an organization with superior product offerings.
New York, NY (PRWEB) January 13, 2016
Michael Management Corporation, an award-winning SAP training and eLearning innovator, today announced that David Hengel has been appointed Vice President of Customer Engagement for SAP Training. Hengel has been with MMC since 2013 and brings more than 15 years of experience in sales and business development at leading technology companies.
"We're pleased to appoint David to this leadership position and we're excited about the company's customer engagement future under his direction," said Thomas Michael, CEO of Michael Management. "We've enjoyed strong growth over the past few years and have set aggressive sales goals for this year and beyond, and we believe that David has both the vision and the drive to take our business to the next level."
Hengel has enjoyed rapid growth in the course of his career. He found early success while in event and product launch positions at Pro RDX, where he earned various accolades and managed all facets of event operation. Following Hengel's tenure at PRO RDX, he managed business development efforts for ASUG, where he successfully expanded accounts across all industry sectors. Most recently, Hengel was director of business development at MMC, where he was hand-picked to lead the sales launch for the company's new SaaS subscription platform.
"What attracted me to Michael Management Corporation was the opportunity to join an organization with superior product offerings," said Hengel. "I believe that my consultative approach to sales will lend itself well to my new role as it is critical to help prospective customers understand training program best practices and the upside of engaging a company like ours to facilitate SAP training for their employees."
Hengel joined Michael Management Corporation in January 2013 and immediately assumed leadership of the company's global sales operations. He holds a bachelor's degree in marketing from St. Cloud State University.
About Michael Management Corporation
Michael Management Corporation is a leading provider of online SAP training solutions and SAP sandbox access subscriptions. Michael Management's SAP eLearning courses are used by many Fortune 1000 companies around the world to train their users on SAP know-how. For more information, visit http://www.michaelmanagement.com.
Michael Management Corporation (MMC), the MMC Logo and the MMC Swoosh are registered or unregistered trade and/or service marks of Michael Management Corp. and are protected by US and international copyright laws. All other names, brands, logos, etc. are registered trade or service marks of their respective owners. MMC is not affiliated with SAP AG.