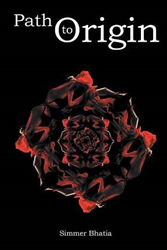 "This book is not only a fascinating read, but it delves into a higher plane of consciousness." - Robert Fletcher, CEO of Strategic Book Publishing and Rights Agency
(PRWEB) January 12, 2016
Indian author Simmer Bhatia wrote "Path to Origin" about the conditions of humanity and incidents across the world that speak of disconnection with the higher consciousness.
She says, "When your life speaks to you beyond what it reflects … your soul connects. Once it's out, the truth cannot be stopped. It has to be shared or it destroys the very carrier of it. That's when I, the writer, the carrier of these messages, began this journey to write my first book."
The events in "Path to Origin" happened to the author when she was working on a script based on a true life story called "Soulmates," which will be her next book. She woke up one morning, opened her laptop, and began writing what she terms "free flow." She never read the book until it was completely finished.
In the introduction, she writes, "If you don't know who you are yet, how can you conceive and bring up other souls, tell them who they are, and what they are to be in your lifetime? If you are insecure in your life, scared every moment of uncertainty and death, then what is the point of bringing soul after soul into this life? When you are destroying yourself, your existence in every moment, then why do you want me to come into this very existence? The time has come to connect to your origin on this earth."
From a passage in the book:
He finally finished, stared into her, and spoke, "Amazed? Have no words?" She looked at him and replied, "Have no time. What I will show you now, will be beyond what you ever thought of creating or have created. The journey I will take you on now is the journey leading to just one destination for mankind, and that is the end of mankind in mere human existence."
Timeline: 2022
She stared at him in a hypnotic way and a pool of energy started forming in the space between them, until it grew larger and larger and sucked both of them into it.
About the Author: Simmer Bhatia lives in Mumbai, India. This is her first book. Not only was it written to awaken the consciousness of mankind to today's global condition, but is also a movie called "The Conversations – A Journey to Path to Origin," an adaptation of an important section of the book that will be released shortly. Promos and the making of the story will soon be on the author's website. Her next book is a true romantic tale about the journey of a woman searching for her twin soulmate, a journey manifested by the protagonist in pre-written script that turns into a reality.
"This book is not only a fascinating read, but it delves into a higher plane of consciousness. We are most pleased to announce its release," said Robert Fletcher, CEO of Strategic Book Publishing and Rights Agency.
PATH TO ORIGIN (ISBN: 978-1-63135-611-7) is now available for $20 and can be ordered through the publisher's website:
http://sbprabooks.com/SimmerBhatia or at Amazon.com or Barnesandnoble.com.
WHOLESALERS: This book is distributed by Ingram Books and other wholesale distributors. Contact your representative with the ISBN for purchase. Wholesale purchase for retailers, universities, libraries, and other organizations is also available through the publisher; please email bookorder@sbpra.net.