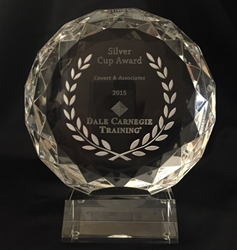 Receiving the Silver Cup Award was truly a team effort.
Scottsdale, Arizona (PRWEB) January 13, 2016
The Dale Carnegie of Central Alabama Franchise was recently recognized at the annual Dale Carnegie and Associates North American Conference with the prestigious Silver Cup Award. The Silver Cup Award is given to the top eight franchises in North America for year over year revenue growth. This was the second time Dale Carnegie of Central Alabama has received this award, having claimed the honor in 2011 as well.
Eligible for the award were 80 franchises across the United States and Canada. The Conference, held December 7-11, 2015, hosted 370 attendees, many of whom were present for the ceremony honoring award recipients on December 10, 2015.
"Receiving the Silver Cup Award was truly a team effort.  Our sales, marketing, training and project management teams played an integral part in us winning the award!  We are honored that our customers trust us to create the transformations in their organizations that lead to achieving greater success in the marketplace," said Nancy Covert, president of Dale Carnegie Alabama.
Dale Carnegie Training has been helping individuals and organizations achieve their goals for 103 years. We are an action company. We focus on learning through doing, and apply time-tested techniques for real-world and real-life results. If you'd like to learn more about our programs, please visit http://www.birmingham.dalecarnegie.com or call 205-444-5011.