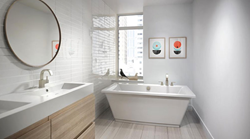 In addition to white and oyster acrylic colors, the Fiore™ freestanding bathtub comes in an eye-catching black/white combination
Chino Hills, CA (PRWEB) January 18, 2016
Jacuzzi Luxury Bath (http://www.jacuzzi.com/baths/bathtubs/), the company that introduced the world's first whirlpool bathtub 60 years ago, unveils its second bathtub of 2016 – the Fiore™ Collection.
Fiore™, Italian for flower, features a subtle arching exterior coupled with unprecedented room for relaxation. The versatile Fiore™ bathtub is available in three color choices, two bathing experiences, two installation methods, and features a 5 ¼ -inch wide side deck to support offset deck-mount faucet installation.
Made of top-quality acrylic, the 66" x 36" x 24" two-piece design merges durable construction with installation flexibility, allowing customers to choose either the freestanding or drop-in version. The Fiore™ freestanding bathtub's compact rectangular design and competitive opening list price of $1,995 make it the perfect choice for the discerning consumer.
"In addition to white and oyster acrylic colors, the Fiore™ freestanding bathtub comes in an eye-catching black/white combination," says Nick Ochtman, Product Manager at Jacuzzi Luxury Bath.
The Fiore™ 66" x 36" model is available in both Soaking and Pure Air® experiences. Soaking baths relax the mind and body, while Pure Air® technology takes that experience to a new height – adding skin-soothing relaxation to the bathing ritual.
"In early spring 2016, a smaller version of the Fiore™ Freestanding bathtub will launch," adds Erica Moir, Vice President Marketing and New Product Development, "and its 62-inch length will allow homeowners to achieve high-style in smaller, tighter spaces."
Media contact: Kristina Spindler, Director of Marketing, Jacuzzi Luxury Bath 1.909.247.2057.
About Jacuzzi Luxury Bath
Jacuzzi Luxury Bath proudly celebrates 60 years of fashioning the ultimate bathing experience, since the Jacuzzi brothers first commercialized the submersible whirlpool pump in 1956. The iconic line of Soaking, Pure Air®, Whirlpool and Salon® Spa experience baths continues to provide elevated and luxurious experiences by pushing the boundaries of convention in bathing.
Jacuzzi Luxury Bath is a dba of Jacuzzi Inc., the world's most recognized name in whirlpool bathing. For more information, visit http://www.jacuzziluxurybath.com or follow us on Facebook at https://www.facebook.com/jacuzziofficial. For Jacuzzi Luxury Bath customer service, call 1-800-288-4002.