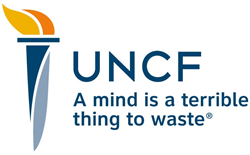 Detroit, MI (PRWEB) January 12, 2016
The Detroit Area office of UNCF (United Negro College Fund) and the Detroit Inter-Alumni Council will hosts its 24th annual Dr. Martin Luther King, Jr. Birthday Celebration on January 18th. For over two decades, this event has celebrated the life and achievements of UNCF alumnus Dr. Martin Luther King, Jr., Morehouse College graduate of the class of 1948. The event honors local champions with the Spirit of the Dream Award for their dedication and work throughout the community. This year's honorees include: Vivian R. Pickard, Director of Community Partnerships, General Motors, Alpha Phi Alpha Fraternity, Inc.-Gamma Lambda Chapter and the Communities in Schools Performing Arts Ensemble. Funds raised from the event provide resources for area students to get to and through college.
WHO: UNCF and the Detroit Inter-Alumni Council
WHAT: 24th Annual Dr. Martin Luther King, Jr. Awards Birthday Celebration
WHEN: Monday, January 18, 2016, 8:30 am
WHERE: Shriners Silver Garden Events Center, 24350 Southfield Road, Southfield
For more information on how to support UNCF efforts, please contact UNCF at 313.873.1500 or Barbara(dot)Patton(at)uncf(dot)org
About UNCF
UNCF - United Negro College Fund is the nation's largest and most effective minority education organization. To serve youth, the community and the nation, UNCF supports students' education and development through scholarships and other programs, strengthens its 37 member colleges and universities, and advocates for the importance of minority education and college readiness. UNCF institutions and other historically black colleges and universities are highly effective, awarding 20 percent of African American baccalaureate degrees. UNCF awards more than $100 million in scholarships annually and administers more than 400 programs, including scholarship, internship and fellowship, mentoring, summer enrichment, and curriculum and faculty development programs. Today, UNCF supports more than 60,000 students at over 1,100 colleges and universities. Learn more at http://www.uncf.org.