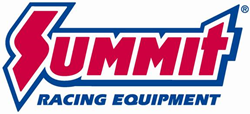 Tallmadge, OH (PRWEB) January 14, 2016
Racing generates data--and lots of it. Summit Racing has the AiM Sports Data Acquisition Tools to help racers collect the vital information needed to improve their performance—and win more often.
Solo Sports GPS Lap Timer
The Solo Sports uses GPS to record lap times—no trackside beacon needed. It provides a real-time display of laps, and can do predictive lap timing that is accurate to 1/100 of a second. Hit the Solo's memory button when the session is over to see the three best lap times. Hit the button again and get a full list of lap times along with straight speed and corner speed data for each lap. Racers can even bring up a histogram view of lap times to help identify driving patterns.
The Solo Sports also records speed, track position, lateral g-forces, linear g-forces, yaw rate, heading, and slope 10 times per second. All tests are stored with a time and date stamp for on-screen review or PC download for further analysis. Other features include:

Plot data over time or distance, xy plots, and track position
Correlate data to track position with overlay maps to analyze driving lines
Track section analysis provides sector times for each lap
Quarter mile performance test modes
0-60 MPH performance test mode
MXL Strada Data Logger
The MXL Strada is ideal for dual-purpose street/track day cars. It functions as a digital dash and gauge display, and can interface with many popular OEM and aftermarket ECUs to stream data. The MXL Strada uses state of the art algorithms to sample, calculate, and display RPM, lap time, gear position, speed, temperatures and more. It also stores lap time data for on-board replay. Use AiM Sport's optional full harness to connect additional sensors. Features include:

Internal data acquisition system
128 kB of non-volatile memory stores lap data for on-board playback
5.5 inch wide LED display with backlight
RPM displayed by number and graphic curve
Configurable RPM scaling
10 shift light LEDs (green, yellow, red)
Six configurable alarm LEDs for min./max. alarm
Built in clock and calendar for test management
Total and partial odometer with reset
Race Studio 2 software
Features with Optional Full Harness

One RPM input and one speed input
Eight analog input channels: temperature, pressure, potentiometer, oxygen sensor, on-board, and custom sensor
Gear number calculated or sampled from on-board sensor
Infrared lap receiver and lap transmitter
Lap times and split times
MultiChron Stopwatch
The MultiChron stopwatch is a hand-held digital lap timer that tracks up to four different racers simultaneously. It records up to 99 laps per racer, and the user can review best laps and scroll through all laps to review the race. Racers can also record up to nine spilt times per competitor, per lap. The MultiChron stopwatch features two different starting modes:

One Start Mode activates timer with one press of the button
Multi Start Mode activates timer for each driver independently during races where drivers start at different times
Summit Racing also carries other AiM Sports data loggers, lap timers, and accessories, plus the company's SmartyCam onboard HD camcorders that are designed specifically for motorsports.
Summit Racing Equipment
http://www.SummitRacing.com
1-800-230-3030