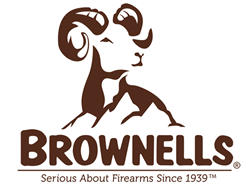 "We've got some exciting things going on at our booth, so be sure to drop by and say 'Hello.'"
Grinnell, IA (PRWEB) January 13, 2016
Brownells will unveil new products, show off new Dream Guns® and host celebrity appearances in Booth #13018 on the main floor at SHOT Show 2016, Jan. 19-22, in Las Vegas, Nevada.
The new products include the very first AR-15 lower to bear the Brownells name. Patterned after the first versions of the M16, the stripped lower has the correct profile for completing authentic replica builds of early model guns, as well as more recent firearms like the MK18 and MK12 rifles.
Brownells will also release an M16A1 carry handle stripped upper and the new Brownells-branded hearing protection with both passive and electronic ear muffs.
"The whole Brownells gang always looks forward to SHOT Show," said Chairman Frank Brownell. "It's a great chance to do business, plus meet up with old friends we haven't seen in a while and make new friends. We've got some exciting things going on at our booth, so be sure to drop by and say 'Hello.'"
Visitors to the Brownells booth will be able to pick up show swag and special discount promo cards. Those not attending SHOT Show can keep up with the latest by visiting the Brownells SHOT Show page.
Brownells will showcase 11 new Dream Guns®, firearms customized and outfitted with some of the newest products and accessories Brownells has to offer. The Dream Guns span rifles, handguns and shotguns, and include a Remington 700, a Ruger® Mark III, a Glock® and a Benelli M2. The purpose of the Dream Guns is to inspire and show customers what's possible to create using Brownells wide selection of parts, accessories and tools.
The Brownells booth will also host four celebrities during SHOT: actor Lou Ferrigno from "The Incredible Hulk," Lou and Theresa Tuminaro from Outdoor Channel's "The Gunfather Presented by Brownells," and professional shooter Janna Reeves. They will be available to chat and sign autographs at the following dates and times.

Tuesday, Jan 19 – Lou Ferrigno. 12pm – 2pm
Wednesday, Jan 20 – Lou & Theresa Tuminaro, 11am – 12pm
Lou Ferrigno, 12pm – 2pm
Janna Reeves, 3pm – 4pm

Friday, Jan 22 – Janna Reeves, 10am—11am
About Brownells
Serious About Firearms Since 1939™, Brownells is the world's leading source for gun parts and accessories, ammunition, gunsmithing tools, survival gear and archery. With a large selection of both common and hard-to-find items, and an extensive collection of videos, articles, and gun schematics, Brownells is the expert for everything shooting-related. Committed to maintaining our great traditions, Brownells has more, does more and knows more – and guarantees it all, Forever. For more information or to place an order, call 800-741-0015 or visit Brownells.com. Stay up-to-date with Brownells on YouTube, Facebook, Twitter and Instagram.