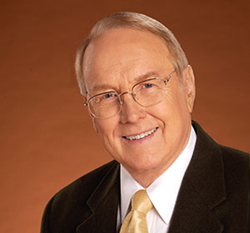 Lynchburg, Virginia (PRWEB) January 12, 2016
Liberty University recently launched the James C. Dobson Center for Child Development, Marriage, & Family Studies in partnership with world-renowned psychologist, author, radio show host, and family expert Dr. James C. Dobson.
Housed under the Department of Counselor Education & Family Studies, the center equips men and women with the knowledge to positively impact the family and society for Christ. Regardless of their major or degree program, students can add minors in family advocacy, public policy, & the future, parenting & child/adolescent development, or marriage & family studies. Courses are currently available through Liberty's online education program. Dr. Dobson, as well as other distinguished Christian psychologists and family therapists, teach video lectures. Students who complete the program receive a certificate in marriage and family relationship coaching.
For decades, Dobson has worked to strengthen families and promote biblical values through his books, lectures, films, radio programs — and now digital media as well.
"It has often been said, as the family goes, so goes society," said Dobson. "The family is a foundation, the ground floor in which everything of value rests. Our institutions, our government, our children, all depend on strong and stable families, and that is why I am excited to partner with Liberty University to equip men and women with the skills to impact families."
Dobson first visited Liberty in May 1993, when he was the Commencement speaker.
"I was on campus for just one day, but I immediately recognized what the university and the Liberty community stood for," he said. "When I was invited back to campus recently to discuss the concept and initial planning of the new Dobson Center, President Jerry Falwell showed me that the school had remained true to its original beliefs and vision. It is an honor for me to be part of this legacy-building effort."
About Liberty University
Liberty University, founded in 1971, is the largest private, nonprofit university in the nation, the largest university in Virginia, and the largest Christian university in the world. Located near the Blue Ridge Mountains on more than 7,000 acres in Lynchburg, Va., Liberty offers more than 500 unique programs of study from the certificate to the doctoral level. More than 200 programs are offered online. Liberty's mission is to train Champions for Christ with the values, knowledge, and skills essential for impacting tomorrow's world.