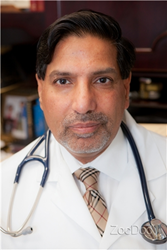 Dr. Abdul Malik, is a cardiologist that practices with his heart.
Brooklyn, NY (PRWEB) January 29, 2016
Dr. Abdul Malik has been known to treat his patients in a way that is only best described as kind hearted, attentive, and understanding; such practices have earned him a seat at as a Top Doctor and has granted him past awards such as the Consumer's Choice award.
A highly qualified and professional cardiologist and internist, Dr. Abdul Malik has been serving the Brooklyn community for over 28 years, and his top priority is to maintain his status as being a doctor that practices with his heart; respectfully and with the patience and guidance that every patient that walks through the door expects and deserves. It's no coincidence that Dr. Abdul Malik has been recognized with awards that honor the amount of care and attention that he has devoted to his practice and the patients that make his job so worthwhile.
Patients tend to look for a compassionate doctor who also uses all the most up-to-date and modern technologies and equipment to ensure an accurate and swift evaluation of any potential health issues, doctors like Dr. Abdul Malik. In addition to being known as a thorough and reliable doctor, he is also board certified by the American Board of Internal Medicine and Cardiovascular disease, as well as holding several prestigious awards like the Fellow of American College of Cardiology (FACC).
When it comes to matters of the heart it's important to seek out the best there is, a doctor who will hear a patient's concerns with a listening and empathetic ear, and take preventative measures to keep those they treat in the healthiest state possible while properly diagnosing and treating potential problems. It is unfavorable to been seen by a doctor that is concerned with quick turn over and getting you out the doors as quickly as possible. Dr. Abdul Malik is known to be the opposite of those doctors seen as unfavorable, a cardiologist that practices with his heart.
For more information about Dr. Adbul Malik, MD, or to schedule an appointment, please contact: Sina Medical Center at (718) 469-4006
Dr. Abdul Malik, MD
Sina Medical Center
608 Schenectady Ave
Lower Level
Brooklyn, NY 11203
(718) 469-4006 (Office)
(516) 222-6404 (Fax)