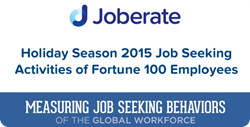 Organizations looking for strategic insights into their workforce or for a competitive advantage in recruitment of top talent can rely on J-Score™ as a proven workforce analytic.
New York, NY (PRWEB) January 14, 2016
Joberate™, the world's first and only technology platform that monitors and measures live job seeking activities of the global workforce by leveraging publicly available Social Media data, announces today that the company has released its first annual Holiday Season job seeking activities report, which tracks job seeking activities of Fortune 100 employees during the twelve weeks leading up to New Year.
During the period from November 23, 2015 through January 3, 2016 (the "Holiday Season"), the average J-Score™ of Fortune 100 employees was 13.4 while the the average J-Score™ during the period from October 12, 2015 through November 22, 2015 was 19.1. This represents a 30.1% decline in J-Score™ job seeking activities by Fortune 100 employees during the six-week Holiday Season when compared to the previous six-week period. The overall decline in J-Score™ job seeking activities for the consecutive twelve-week period was 36.9%.
Joberate's platform measures a person's job seeking activities by extracting relevant information about the person from global Social Media data, and applying data science and machine learning to convert the information into a patent-pending, job seeking activity metric called J-Score™. Blue chip companies have already started using Joberate to power a whole new generation of real-world business applications in recruitment and retention of talent.
According to a Center for American Progress study, the cost to replace a worker, depending on their skill set, can range from 10%-30% of their salary, while the cost to replace executives and other niche roles can be as high as 213% of their salary. In total, voluntary attrition represents a $350 billion global problem that businesses must address strategically. At the same time companies spend more than $400 billion globally on staffing services, in an effort to attract and recruit top talent, with $124 billion of the global spend occurring in the U.S.
Social Media has enabled society to identify and apply for new opportunities nearly effortlessly, which presents both challenges and opportunities for talent acquisition and HR teams that are charged with retaining and recruiting top talent; voluntary employee turnover, time to hire, quality of hire, and cost per hire are typical key performance metrics. Markets and Markets predicts the Workforce Analytics Market will be worth $860.4 Million by 2020, as organizations of all sizes will flock to solutions like Joberate to tackle real-world business challenges.
"Joberate's platform will perform analysis of job seeking activities of more than 1.8 billion people globally over the next three years, which represents nearly half of the world's employable population that will have a unique J-Score™," said Michael Beygelman, CEO of Joberate. "Our technology demonstrates the power and the capability of leveraging social "big" data and machine learning, to provide real-time insights about observable job seeking behaviors of the global workforce; helping companies know more about their employee engagement, do a better job retaining their key people, and hire top talent quickly and cost-effectively."
The Holiday Season 2015 Job Seeking Activities research report is available as a free download by visiting http://www.joberate.com.
About Joberate
Joberate's mission is to help society better understand job seeking behaviors of the global workforce, as organizations of all sizes are adopting Joberate's global platform to power a whole new generation of real-world business applications. Organizations are using the Joberate platform to help with retention and recruitment of talent, as an alternative credit scoring methodology, in financial hedging and risk management, succession planning and M&A integration, to gather market data and perform research, and sales and account management. Joberate's technology platform is available to API partners for integration into leading CRM, HRIS, ERP, Talent Management, ATS, and Financial applications.
Joberate won the 2014 iTalent technology competition, hosted by HRO Today Forum, from a prominent field of finalists including Glassdoor, Jibe, Smashfly, and 1-Page. In 2013 the company was named a finalist at the UK National Online Recruitment Awards competition in the category of Best Innovations in Online Recruitment along with prominent companies like LinkedIn, and Joberate was recently shortlisted by SAP for the "Big Data Startup of the Year" award.