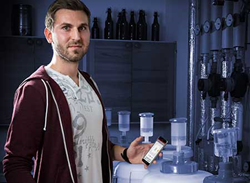 Ashland, Virginia (PRWEB) January 15, 2016
Anton Paar introduces the EasyDens, a digital density and extract meter for homebrewers. The budget-friendly compact instrument based on world-leading Anton Paar technology can be used with a smartphone app to determine the extract content in wort, monitor the fermentation process and to decide when it's time for bottling.
In contrast to a set of glass hydrometers, an ancient method for checking a brew that still persists in the homebrewing sector, the EasyDens density and extract meter covers the entire measuring range required for beer production. This is a single push-button solution for extract checks before, during and after fermentation. Measurements are done in less than a minute, including filling and cleaning. Results are automatically temperature-corrected and displayed in °Plato – on brewers' phones, after downloading the free app that goes with EasyDens– so no further calculations or correction tables are required.
EasyDens is true to its name regarding its demands on the user. Here's how a measurement with EasyDens works: After removing particles from the beer sample – only 2 mL are needed – using a paper filter, and removing CO2 during and after fermentation by degassing the sample with some shaking, a few milliliters are filled straight into EasyDens using a syringe. The measured results are displayed moments later. Any maintenance requirements such as cleaning and re-adjustments are just as easy. Brewers can do it all themselves, with some distilled water.
With EasyDens at their side, homebrewers are safe from reading errors, calculation mistakes or misinterpretation of values. It is arguably the easiest way to ensure that a brew ends up as the beer a brewer intended to produce, and to enhance brewing skills in the long term. What is more, EasyDens users get the maximum drinkable volume out of their work done, due to the low amount of sample needed for testing.
Another incentive for homebrewers to take the next step and "go digital," at an affordable price, is the system's robust setup – EasyDens' glass measuring cell is protected by the surrounding housing, ensuring a long-term brewing relationship that saves costs in the long run.
Anton Paar has been a partner to the brewing industry for decades and is the world's leading provider of density and extract measurement in this industry. EasyDens is based on the renowned oscillating U-tube principle, the same technology applied in the world's most accurate density meter, DMA 5000 Generation M. Homebrewers now benefit from this quality in a straightforward, budget-friendly package – refined technology to help them refine their brew.