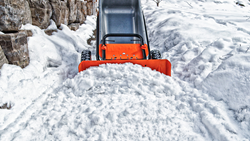 Charlotte, N.C. (PRWEB) January 14, 2016
The versatile WORX® Aerocart™ has a new snow plow attachment that converts the mobile cart into a wheeled snow plow. Aerocart provides added leverage to move or lift snow off driveways, sidewalks and patios without straining.
With most conventional shovels, the user wraps one hand around the handle, while the other hand guides and provides support for moving or lifting the snow. What makes Aerocart's Snow Plow Attachment different is that both hands are on the wheelbarrow's handles, so the user's weight, plus the weight of the cart, combine to help move snow. For patches that require lifting the snow, the weight of the load is absorbed by the cart and not the user's back.
The optional Aerocart Snow Plow Attachment (WA0230, $39.99) is easy to assemble and includes three built-in height adjustments to maximize leverage and control. The curved 26-inch wide blade weighs 4.8 lbs. and is constructed of high-impact plastic resin with a durable, galvanized-steel wear strip.
The multi-purpose WORX Aerocart (WG050, $159.99) can be used for dozens of moving projects around the house, yard or workplace. What makes this mobile cart unique is its dual-position wheels, which enable it to handle the work of eight carts.
Aerocart exploits the physics of leverage. As a wheelbarrow, Aerocart's tub is specially shaped to concentrate the center of gravity directly over the wheels. This creates a perfectly balanced load that's lifted and moved with ease. Test results show that a 200 lb. load feels more like 17 lbs. Aerocart's 22 inch width allows it to fit easily through fence gates, front doors and patio doors.
When Aerocart is in dolly position, it's a hand truck ready to move totes, boxes, furniture, and even refrigerators up to 300 lbs.
The versatile cart has drop-down extension arms to convert it into an extended dolly for moving bulky items such as bags of mulch, hay bales or furniture up to 80 lbs.
AeroCart's accessories include a Plant Mover Strap; Rock Holder, Cylinder Holder and Bag Holder. Besides the Snow Plow Attachment, other optional accessories include: a Wagon Conversion Kit, (WA0228, $79.99); Tub Organizer, (WA0234, $39.99); Firewood Carrier (WA0232, $39.99) and Water Bag Attachment, (WA0229, $19.99).
To learn more about WORX Aerocart and its accessories, visit http://www.worx.com
Reach out to WORX social media links visit: Facebook: https://www.facebook.com/worxus?ref=hl; Twitter: https://twitter.com/WORXTools
# # #