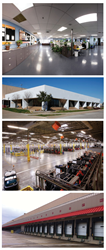 Texas Industrial Center offers 280K to 1M SF for lease and is one of the largest, most cost effective facilities in the Southwest
Dallas, TX (PRWEB) January 16, 2016
Hackman Capital Partners, LLC. announced today that Dallas-based Paladin Partners has been selected as the exclusive listing agent to lease the remaining space at North Texas Industrial Center. Situated in Corsicana at 2200 South Business 45, which is less than a quarter mile from Interstate 45, the main route between Dallas and Houston, and approximately 45 minutes from downtown Dallas, the 1.45-million-square-foot, multi-tenant facility offers 1,007,565 square feet of currently available space and is easily divisible to 280,000 square feet. The property is owned by a Hackman Capital affiliate.
"This is the largest industrial center of its kind in Texas," said Conrad Madsen, lead broker, Co-founder and Partner at Paladin. "It also is the most cost effective facility in the Southwest."
Promoting the facility's low operating costs—including aggressive lease rates—and its strategic location, Paladin Partners plans to first target national retailers as growth in e-commerce arenas continues to create demand for distribution and manufacturing space that far exceeds supply.
"With vacancy rates at a generational low, we've already seen tremendous interest in the property," Madsen continued. "It's a great choice for companies looking to serve the Southwest and the entire United States, due to its centralized location."
According to Madsen, North Texas Industrial Center also offers first-class building amenities that are cost-prohibitive to replicate in a new build. Those amenities include extensive loading, with cross-dock capability, abundant trailer storage and car parking, Union Pacific rail access, heavy power, six- and eight-inch reinforced concrete floors, excellent mechanicals and other features.
The 139-acre site also offers the opportunity for a 500,000-square-foot expansion.
"To top it off, users will benefit from the area's low cost-labor pool, plus a generous array of state and local incentives designed to help businesses reduce taxes and relocation expenses," Madsen said. "The property is an ideal choice for retailers or, for that matter, any large, distribution or manufacturing user."
Formerly occupied by Home Depot, North Texas Industrial Center is owned by a joint venture formed by Hackman Capital Partners of Los Angeles, Calare Properties, Inc., of Hudson, Massachusetts and KBS Real Estate Investment Trust. The property was purchased in 2007 as part of a 11.36-million-square-foot portfolio. Hackman Capital Partners manages the property.
MORE ABOUT PALADIN PARTNERS
Founded in 2014, Paladin Partners is a full-service real estate firm, recognized as a top producer in the industry. The company provides customized real estate solutions for Fortune 500 companies, private investors, start-ups and large institutions. In the last 18 months, the company has represented landlords in leasing more than 2,142,000 square feet of bulk industrial space in the Dallas/Fort Worth area.
For more information, visit paladin-partners.com.
MORE ABOUT HACKMAN CAPITAL PARTNERS, LLC
Founded in 1986 and headquartered in Los Angeles, Hackman Capital Partners is a privately held, asset-based investment firm that focuses on the acquisition of industrial real estate and the purchase and sale of industrial equipment. The firm currently owns, through its affiliated entities, more than 200 properties throughout the United States, totaling approximately 25 million square feet and representing more than $1 billion in assets. With more than 29 years of experience in acquisition, redevelopment and asset management, Hackman Capital Partners is known across marketplaces for its ability to successfully navigate complex transactions and financial restructurings involving real estate and equipment.
For more information, visit hackmancapital.com