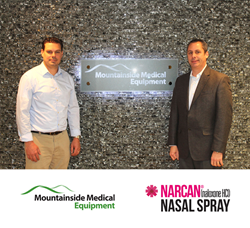 Marcy, NY (PRWEB) January 16, 2016
Mountainside Medical Equipment, Inc., an international wholesale supplier of medical supplies and equipment, is pleased to announce that effective January 12, 2016 an agreement has been made with Adapt Pharma of Radnor, Pennsylvania to be one of a select group of distributors carrying Narcan® Nasal Spray. Mountainside Medical Equipment, Inc. will be authorized to distribute throughout the United States.
Narcan® Nasal Spray gained fast track approval through the FDA and was officially approved for sale in the United States on November 18, 2015. Naloxone Hydrochloride, known commonly by the brand name Narcan®, is used to counteract opioid overdose providing a valuable life-saving tool to first responders and others at risk. Prior to the release of Narcan® Nasal Spray, many of the available options required injection or the assembly of multiple components prior to administration.
The revolutionary new Narcan® Nasal Spray provides simplified administration of a 4mg dose of Naloxone Hydrochloride making administration faster, safer, more effective, and less prone to error.
Mountainside Medical Equipment, Inc. is a privately held medical supply and equipment wholesaler located in Marcy, NY committed to providing the most advanced and effective medical technologies throughout the United States and global markets.