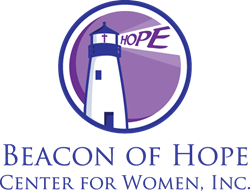 "Sandy's extensive experience, passion and commitment to the domestic violence community will serve the clients of Beacon of Hope as well as the entire community," Jackie Ponder, president of the center's board of directors.
Indianapolis, IN (PRWEB) January 15, 2016
Beacon of Hope Center for Women is pleased to announce the appointment of, Sandra Ziebold, as its new president and CEO. Ms. Ziebold first approached Beacon of Hope with a creative art therapy concept for children of domestic violence families. The Lilly's Lighthouse Foster Pet Program resonated with Ziebold very deeply, knowing first hand from her own experience that pets are harmed by abusers to control others in domestic violence situations. She joined the organization's Board of Directors in 2012. She became Co-Chair of the Board in 2013, and now in this first month of 2016 will take on the additional role of president and CEO with the organizations transition in leadership. Sandra Ziebold will replace Terri Moore, who is a Co-Founder and has served as the president and CEO since the organizations inception.
Terri resigned to pursue a new exciting endeavor in her life as the CEO of Terri L. Moore and Team. Terri is in the process of writing a book and is now providing breakthrough coaching and workshop training as the inspiration coach for women. Terri will remain very involved with Beacon of Hope as a collaborative supporter. Terri's company will work together with Beacon of Hope as a coaching resource for survivors once they transition.
"The passion that compelled me in 2007 to begin this journey and establish Beacon of Hope is still strong. That passion is evident throughout every fiber of this organization and I know that the community will remain steadfast and loyal in supporting this wonderful organization that I am so proud to have Co-Founded. Beacon of Hope is poised for this new exciting phase and God has guided this decision. This organization is in very talented hands and under Sandy's leadership I know Beacon of Hope will thrive and achieve great growth. Thank you to the community. What an honor it has been to serve." Terri L. Moore, Co-Founder Beacon of Hope Center for Women, Inc.
Ziebold, who has over 20 years of experience in business and nonprofit leadership, is the creative owner of Ziebold Imagery. She has many clients and consulting partners and is an attending member of several organizations in and around Indianapolis. Many know her from an 8 year tenure she enjoyed in a leadership capacity for Especially Wicker, LLC a Top 100 Casual Living Powerhouse Retailer. She has served in prior non-profit servant leadership roles in both Indiana and Minnesota. She served as interim assistant director for The Children's Theatre Institute for a short term in Indiana. She also Founded an International Mothers Offering Mothers Support 501(c)3 local chapter and was the president for four years while residing in Minnesota.
Ziebold's most recent association is with the American Advertising Federation as a member and a GeNext Speaker; believing strongly that we need to impart wisdom gained from lessons learned, share and advise our younger generations. She speaks to classrooms upon request of their professors.
"Sandy's extensive experience, passion and commitment to the domestic violence community as well as her leadership in business operations, management, public relations, creative collaboration development, communications and marketing will serve the clients of Beacon of Hope as well as the entire community," Jackie Ponder, president of the center's board of directors.
Beacon of Hope Center for Women has provided crisis support services to over 5,000 victims of domestic violence since opening its doors in Indianapolis just seven years ago. Many exciting opportunities have been presented and we are strategically exploring on our growth direction to best serve the domestic violence community.
Beacon of Hope Center for Women is a Christ-centered organization empowering victims of domestic violence to become self-sufficient by providing safety, support and education. Since 2009 Beacon of Hope has been the exclusive domestic violence organization in Marion County offering direct assistance to victims while addressing pet safety. Beacon of Hope, through its Victim Advocacy, Counseling, "Teen Talk" Outreach and Education, Law Enforcement Purple Sheet and Lilly's Lighthouse Foster Pet Care Programs offers victims of domestic violence assistance in overcoming barriers that hold them in abusive situations. Beacon of Hope is a non-profit 501(c)(3) organization located in Indianapolis, Indiana.
# # #
If you would like more information about this topic, please contact Jackie Ponder, Board Chair at 317.731.6131 or email at info(at)beaconofhopeindy(dot)org.