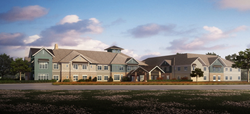 While there are some great providers of senior care in Huntsville, Thrive at Jones Farm will be the premier choice in Huntsville and Madison County. - Alan Moise, Managing Partner, Thrive Development Partners
Huntsville, AL (PRWEB) January 19, 2016
Atlanta-based Thrive Senior Living announced this week that it is breaking ground on Thrive at Jones Farm, an innovative new Senior Living community in southeast Huntsville, AL.
The 2-story, 93-unit assisted living community will feature luxuriously appointed suites, a fitness center, hair & nail salon, doctors' office, chapel, and several courtyards offering beautiful access to the outdoors. Interior finishes include warm tones and stone, wood, and granite surfaces in a lodge-like environment, and will defy the traditional look and feel of most senior living communities. While Thrive at Jones Farm will have all of the amenities expected of today's senior living communities, it will also have not-so-common features such as advanced HUR pneumatic fitness equipment designed for seniors.
Thrive at Jones Farm will be located on Cecil Ashburn Drive in Jones Valley, near the intersection of 4 Mile Post Rd. SE and Carl T. Jones Dr. SE. "While there are some great providers of senior care in Huntsville, Thrive at Jones Farm will be the premier choice in Huntsville and Madison County", says Alan Moise, Managing Partner of Thrive Development Partners. "We look forward to seeing people's reaction to this new community. It will not line up with the traditional perception of senior living, and that's our goal."
Thrive's unique approach uses technology to improve residents' quality of life, and delivers care more efficiently and with more accountability. In contrast to the senior living industry's reliance on paper records, Thrive utilizes an advanced EHR (Electronic Health Records) platform, creating a digital environment integrating communication, medication management, and individual care plans. Care teams will have access to residents' full health picture, allowing a more holistic approach to care. Other systems, including keyless RFID access control and 'smart suites' with motion sensing, will simplify and improve daily life for residents and their families.
Thrive at Jones Farm is a joint venture between Thrive Senior Living, local investors, and Harrison Street Real Estate Capital. Construction financing is provided by Synovus Bank, serving the local market as First Commercial Bank. Construction by Freese Johnson (Atlanta, GA). Architectural services from THW Design (Atlanta, GA) and interiors by Studio Six5 (Austin, TX).
A welcome center will open near the site in the summer of 2016; a grand opening is expected in early 2017. For more information, visit http://www.thrivesl.com or call 404-890-7988.