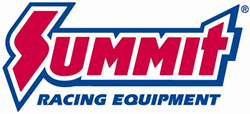 Tallmadge, OH (PRWEB) January 25, 2016
AJE Suspension was born in 1990 when founder Anthony Jones made his first set of wheelie bars for his Fox-body Mustang .Today, AJE makes suspension components for Mustangs, Camaros, Chevy IIs, even A-, E-, and B-body Mopars., and Summit Racing carries the full AJE line—here are some highlights.
Complete Tubular K-Member Swap Kits for Mustang
Make Mustang engine and suspension swaps easier with an AJE Suspension Tubular K-Member Swap Kit. The bolt-in kits feature a tubular steel K-member that weighs less than the factory unit, but is designed with triangulated load paths to make it stronger than factory. The K-member is also designed with bolt-on motor mounts to install a Chevy or Ford V8. That means a racer can swap engines without having to change the K-member. Components include:

Front control arms
Coil-over spring conversion kit
Caster/camber plates depending on application
Rack and pinion steering rack depending on application
Applications: 1964.5-70 first gen, 1979-93 Fox body, 1994-2004 SN95/New Edge, and 2005-11 SN197 Mustang
Front Subframe Kit for 1962-67 Chevy II/Nova
The first-gen Chevy II front suspension is—well, it's lousy. It provides a decent ride, but handling is mediocre at best, if not downright scary when some horsepower is put to it. AJE's Front Subframe Kit will solve that problem. Made from tubular steel, it's designed with improved bump steer, anti-dive, and Ackerman steering angles so the car will go where it's pointed and turns when it's supposed to. It weights a lot less than the stock subframe, and offers plenty of header and oil pan clearance too. The AJE Front Subframe Kit uses the factory attachment points for easy installation. Available in mild or chromoly steel.
Transmission Crossmembers for 1979-2004 Mustang
These tubular steel crossmembers are stronger, more durable, and lighter than the factory crossmember. What's even better, they allow racers to swap in any of these transmissions in their Mustang:

Powerglide
TH-350 and 400, 700R-4, 4L60
C-4 and C-6
AOD
T-56 six-speed manual
Tubular Front Control Arms
AJE Tubular Control Arms are lighter and stronger than the factory arms, and offer extra caster/camber and wheelbase adjustment to improve steering geometry. The control arms are available with adjustable rod ends or self-lubricating bushings, and ball joints are included depending on application. The tubular steel arms are black powdercoated for corrosion resistance.
Applications

1967-70, 1979-2010 Mustang
1962-67 Chevy II/Nova
1982-2002 Camaro/Firebird
1961-79 Mopar B-body
1970-74 Mopar E-body
1964-75 Mopar A-body
Summit Racing Equipment
http://www.SummitRacing.com
1-800-230-3030