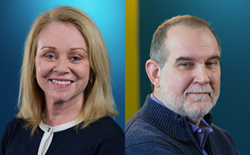 Our organization will benefit from their results-oriented approach to management and the ability to foster a passion for thoroughly understanding a business and executing on strategies to help them grow
Portland, Ore. (PRWEB) January 19, 2016
Viewpoint Construction Software® welcomes Joanna Nikka as Chief Human Resources Officer and Kevin McKay as Vice President of Operations. Kevin will oversee North American and Australian customer support, and professional and learning services; Joanna will lead and drive human resources services and organizational development strategies.
Most recently, Joanna was the Senior Vice President of Human Resources at Aspen Technology, a leading provider of software to the process industries. For the past several decades, Joanna has also held multiple executive level HR positions for technology companies such as Analog Devices and Millipore Corporation.
Kevin brings decades of experience in running industry leading, efficient and strong client services and operations teams, most recently at Tripwire Inc. located in Portland, Oregon. At Tripwire, Kevin was responsible for Professional Services, Technical support, Renewal Sales, Corporate PMO, IT, Legal, and Facilities.
"Both Joanna and Kevin have a proven ability to transform, build and lead organizations to reach higher levels of performance and achieve greater customer satisfaction," stated Manolis Kotzabasakis, Viewpoint CEO. "Our organization will benefit from their results-oriented approach to management and the ability to foster a passion for thoroughly understanding a business and executing on strategies to help them grow."
About Viewpoint Construction Software
Viewpoint is a provider of innovative construction-specific software solutions to the global construction and capital project industries. Viewpoint provides the tools they need to improve project profitability and visibility, manage risk, and effectively collaborate with the entire project team. Viewpoint solutions include everything needed from preconstruction to construction and facilities maintenance, and are offered on a variety of platforms, including Cloud, Mobile, SaaS and On Premises. Headquartered in Portland, Oregon, USA, and with offices in the UK and Australia, Viewpoint has become the technology partner of choice, with customers located across the globe in more than 28 countries. These customers include more than 40 percent of the ENR 400, and over 20 percent of the ENR 600. For more information, please visit http://www.viewpoint.com.
© 2016 Viewpoint, Inc. dba Viewpoint Construction Software. All Rights Reserved. Viewpoint®, Viewpoint Construction Software®, Vista™ by Viewpoint, ProContractor™ by Viewpoint, Viewpoint For Content Management™, Viewpoint For Mobile™, Viewpoint For Projects™, Viewpoint For Field View™, Viewpoint For Estimating™, and Jobpac by Viewpoint are trademarks or registered trademarks of Viewpoint, Inc., in the United States and/or other countries. Other names and brands may be claimed as the property of others.