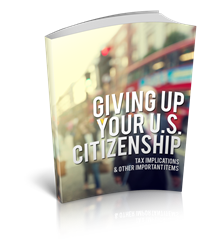 85% of US expats are not fulfilling their IRS tax obligations
Detroit, MI (PRWEB) January 19, 2016
Freeman Tax Law, a tax law firm specializing in overseas financial issues and IRS representation, recently published an eBook for people who are interested in renouncing their U.S. citizenship. It includes important information regarding expatriation, including what the obligations are when trying to renounce a U.S. citizenship, the penalties for failing to comply, as well as helpful tips on exemptions and relief that makes the burden of renouncing a U.S. citizenship a little lighter.
"85% of US expats are not fulfilling their IRS tax obligations," notes Jeffery Freeman, the founder of Freeman Tax Law, "and this eBook will help people decide if renouncing their US citizenship is the path that they want to take. Many people are unaware that renouncing your U.S. citizenship does not relieve them of their tax duties, and not being fully informed can cost thousands upon thousands of dollars. Freeman Tax Law specializes in expatriation, and can help them before they make the leap."
The eBook, titled "Giving up your U.S. Citizenship", is a part of a series of eBooks written by Freeman Tax Law that offer fundamental information about the most common international tax issues with which the firm deals.
The eBook, available in Adobe PDF format, can be downloaded for free through Freeman Tax Law's website. https://www.freemantaxlaw.com/renouncing-your-us-citizenship
Those who need help may submit a form to have a Freeman Tax Lawyer contact them, and more information about Freeman Tax Law's IRS representation, foreign bank account issues, expatriate tax preparation, collections services, or wealth management, can be found by visiting freemantaxlaw.com.
About Freeman Tax Law:
Freeman Tax Law is an experienced international tax law firm with special focuses in analyzing complex expatriate tax law, IRS collections situations, wealth management issues, and foreign bank account reporting. Through careful negotiation, litigation, and planning, Freeman Tax Law has a proven record of meeting and exceeding expected outcomes for their clients, and utilize a unique team-based approach to cases through a multi-disciplinary defense team. Freeman Tax Law is based in Metro Detroit, MI with satellite offices around the world.