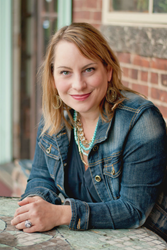 I'm so impressed by the community of talented, passionate and kind individuals who are stable|kernel
Atlanta, Ga. (PRWEB) January 19, 2016
stable|kernel, a mobile app development consultancy specializing in developing mobile software for Fortune 500s, SMBs and cutting-edge startups, hired Jami Sieder as its first VP of operations.
As VP of operations, Sieder's three main objectives include directing the company's human resource operation, evaluating tools, frameworks and processes to ensure a sustainable growth model and serving as the admiral of employee and client engagement. These responsibilities are directly tied to stable|kernel's goals of strengthening its foundation for sustainable growth and giving employees access to interesting work and meaningful learning opportunities.
"We are so fortunate to bring Jami on as our VP of Operations," said Jason Russell, managing partner at stable|kernel. "I had the pleasure of working with Jami in my previous role. Her commitment to greatness is unrivaled."
Sieder's past work experience includes serving as director of training for Atlanta-based mobile app developer training and consulting company Big Nerd Ranch for five years. During her time, she built the corporate training division, directed business strategy and sales, created programs to train and mentor new hires and produced events worldwide. For the past year, she consulted with organizations needing to set business strategies and goals, increase business effectiveness and employee enrichment, develop training programs and embrace mindful leadership.
"stable|kernel has experienced explosive growth over the last year, and we really needed someone with Jami's specific skill set to help us navigate some truly unique challenges," said Russell. "She possesses the uncanny ability of bringing those she works with to newfound heights; and her passion for the job is contagious. I couldn't be more excited about Jami leading operations here at s|k."
Sieder is also a passionate, involved member of the community, serving a number of nonprofit organizations including the Girl Scouts of Greater Atlanta as a troop leader since 2011 and as Parent Teacher Community Association chair for the Atlanta Neighborhood Charter School since 2010. She believes volunteerism is an important part of leadership for companies looking to establish a long-term relationship with the local community.
"Having collaborated with Jason and Joe for a number of years, joining their company as the VP of operations feels like both a warm homecoming and an enticing beginning of something entirely new," said Sieder. "I'm so impressed by the community of talented, passionate and kind individuals who are stable|kernel. It will be a pleasure to shape this robust and unique company by their side."
###
stable|kernel is a mobile app development consultancy that offers end-to-end development services to craft smartly-designed software that connects clients directly to their users – across tablets, smartphones, desktops, wearables and the Internet of Things.