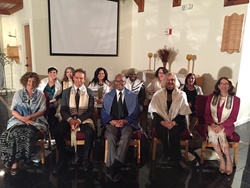 It matters to us. When we do it from the heart, we get it right.
Delray Beach, Florida (PRWEB) January 21, 2016
Jewish Spiritual Leaders Institute (JSLI), the Online Rabbinical School of Sim Shalom, concluded a milestone ordination weekend on January 17th in Delray Beach, Florida, as it ordained nine new Rabbis and celebrated the diversity of the paths travelled by its new and past clergy and the pluralism of Jewish Universalism.
The nine Rabbis, who fulfilled a spiritual calling from across the United States, completed traditional Rabbinic studies deep in Jewish history, Judaic texts, prayer and Rabbinic Law with a nod to the future. The JSLI classroom was held solely online with Torah parsha studies and weekly video conferencing led by JSLI Dean, Rabbi Steven Blane. Each Rabbi was granted semicha by the Bet Din as part of the festivities. The Certificate of Ordination confers the Rabbinical authority to offer pastoral care, interpret Jewish law, lead services and perform the myriad of Jewish life cycle blessings.
The ordination was a joyous weekend which melded blissful music, accompanied by the guitar of Rabbis and Cantors, and lively discussion by the participants. Also celebrated was the commitment of JSLI and the clergy to inclusiveness; the students came from Conservative, Orthodox, Reform, and Reconstructionist backgrounds. The Rabbis adhere to the world view of acceptance, demonstrated by the JSLI tenet that Rabbis should be permitted to marry outside their Jewish faith, a controversial issue in many Jewish communities.
The music harmony performed throughout the weekend reflected the wholeness of JSLI's doctrine. The 10th class of Rabbis included two Jews of color, two Cantors, and one Jew by choice. They hailed from California, Illinois, Florida, New Jersey, Wisconsin, New York, Massachusetts, and Kentucky. The retreat incorporated Sim Shalom's weekly Friday Shabbat service where the global online Sim Shalom community was able to participate and interact via the chat feature. The congregants both present and virtual were led in musical prayer and treated to beautiful Cantorial solos by the soon-to-be ordained Cantors and a meditation inspired by the renowned late Rabbi Joseph Gelberman, a mentor to Rabbi Blane. Using symbolic water, all were asked to bring water to their eyes so that they may only hear the truth, and to their mouths to only speak of love and joy. Rabbi Richard Perlman, who was part of the Bet Din, expressed it this way "It matters to us. When we do it from the heart, we get it right."
The new clergy were challenged to continue their journey to spread their light.
About Sim Shalom & JSLI
Sim Shalom is an interactive online Jewish Universalist synagogue which is liberal in thought and traditional in liturgy. Created in 2009 by Rabbi Steven Blane on Manhattan's Upper West Side, Sim Shalom offers a means of connecting the unconnected. Rabbi Blane leads accessible and short Kabbalt Shabbat services every Friday night using a virtual interface and, additionally, Sim Shalom provides online education programs, Jazz concerts, conversion and life-cycle ceremonies along with weeknight services at 7:00PM EST led by Rabbis and students of this online community.
Rabbi Blane is also the founder and director of the Jewish Spiritual Leader's Institute, the online professional rabbinical program.
Sim Shalom, a non profit 501 © (3) tax-exempt organization, nurtures a Jewish connection through its mission of innovative services, creative education and dynamic outreach to the global community.
For more information, email us spiritualleaders(at)gmail.com or call 201-338-0165..