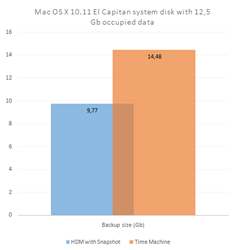 Freiburg, GERMANY (PRWEB UK) 20 January 2016
Paragon Software Group, the technology leader in data security and data management solutions, announces the release of Paragon Snapshot for Mac OS X, the industry's first snapshot technology that allows users to create block-level archives of OS X volumes. With Paragon Snapshot for Mac OS X, incremental backups contain only the blocks that have changed instead of the entire file, the way traditional backup and archive software work. The technology is available for licensing to developers who publish backup software, as well as providers who specialize in disaster recovery.
On OS X, traditional backup archives are created at the file level by Apple's built-in Time Machine and other third-party software that work in a similar fashion. Paragon Snapshot for Mac is the only technology that allows users to create block-level archives of OS X volumes. Recovery from images made with Paragon Snapshot for Mac are at least four times faster than restoring from existing Time Machine backups. Compared to file-level backups, the software with integrated Paragon Snapshot for Mac OS X technology will also provide a higher compression rate for archived files. Among other advantages, Paragon Snapshot for Mac works 100 percent online while OS X is running, requiring no system restart or reboot. With this Snapshot technology in place, incremental backups will be smaller, because the block-level imaging stores only the blocks that have changed.
Once integrated, Paragon Snapshot will prove invaluable for Mac owners, providing them with an option to elevate and accelerate backup routines. When disaster strikes, Paragon Snapshot for Mac enables hassle-free recovery from snapshot-based backup archives, which is significantly more efficient than recovering from file-level backups. Just like the company's industry-proven, cross-platform Universal File System Driver, Paragon Snapshot for Mac OS X supports all file systems, even those not natively supported by OS X (e.g., Windows NTFS and Linux ExtFS). Even more, being installed on the lower level than a file system, the utility can take snapshots of disks without a file system at all. It means that a third-party developer using Paragon's Snapshot technology to work with unformatted disks (e.g. with deleted volumes, etc.) can develop new approaches to address users' needs.
Paragon Snapshot for Mac allows you to:
o quickly and easily back up running applications and system-locked files;
o create RAW disk images;
o image any type of volume, including Windows NTFS or Linux ExtFS-formatted partitions
Why Paragon Snapshot for Mac?

Mac computers have become increasingly popular in content development and other business segments where data loss can be a nightmare. Retrieval of data, multimedia, and system files can be a very risky task.
The majority of current OS X backup solutions work at the file level. As a result, such backup archives contain all files at different moments of time, so their states may differ. Users may not be even aware of such concerns, and continue changing files that reside within a group. Compared to sector-level, snapshot-based images, file-based backups do not guarantee consistency for a group of files. By comparison, the advantage of a snapshot is that the image-based backup contains changes made at the very moment the snapshot is taken, so all associated files in the group are in the same state.
Paragon Snapshot for Mac package includes a single-license SDK for both OEMs and ISVs who may want to build their backup or other software solutions.
Benchmark tests have shown that system restores from a snapshot-based backup take considerably less time than the same recovery from file-based backups. This ensures shorter downtime and quicker access to the required data, which is absolutely critical for businesses and end users alike.
When it comes to incremental backup, recovery from a snapshot-based image of a typical OS X workstation of Paragon Software's QA engineers ran two to four times faster compared to a recovery from a file-based backup; this difference becomes particularly noticeable with larger archives.
System requirements:
Supports Mac OS X 10.8 Mountain Lion and later, including the latest OS X 10.11 El Capitan.
White paper: http://download.paragon-software.com/doc/Snapshot_for_Mac_White_Paper.pdf
Availability:
Paragon Snapshot for Mac OS X is available for licensing. Paragon Software provides flexible licensing packages for independent software developers as well as large disaster recovery solution vendors. For more details about the new technology and evaluation options, please contact technology@paragon-software.com or call:
US: 1-888-347-5462
UK: 44-800-047-0957
Germany: 49-(0)-761-59018-201
About Paragon Software Group:
Paragon Software Group is an innovative software developer focused on two dynamic growth markets. The company's comprehensive product line for the data storage market addresses the needs of data security, storage and management for PCs, servers and networks. A second portfolio of products focuses on mobile productivity applications for handheld devices. Founded in 1994, Paragon Software has offices in the USA, Germany, Japan, Poland and Russia, delivering its solutions to consumers, small business and enterprise clients worldwide through a network of Value Added Resellers, distributors and OEMs as well as online through the company website. Paragon Software provides technology to a host of world-class companies and partners including Belkin, Bosch, Cisco, D-Link, Dell, Toshiba, HP, Western Digital Corp., ASUS, Seagate, LG Electronics, Logitech, Buffalo, Acer, EMC/Iomega, Siemens, Lenovo, Microsoft, Motorola, Nokia and ZTE. For more information please visit the company website at http://www.paragon-software.com.