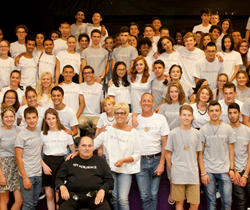 I want the activity in the center to motivate individuals for the purpose of pursuing peace all over the world
New York, NY (PRWEB) January 21, 2016
Referred to by President Carter as "the unsung hero" of the Camp David Peace Accords, Leon Charney served as a backdoor channel negotiator in the 1979 negotiations between Egypt and Israel and has since worked to promote peacemaking and diplomacy via his long running television show, The Leon Charney Report.
Charney is seeking to inspire the pursuit of peace in future generations through the launch of a resolution center located in Israel, on the Kfar Hayarok campus near Tel Aviv. "I want the activity in the center to motivate individuals for the purpose of pursuing peace all over the world," Charney has stated.
The Leon Charney Resolution Center is a new and innovative space dedicated to both the history and the future of negotiations, peace and learning that are represented by Mr. Leon Charney. At the center, students and the surrounding communities are welcome to participate in discussions, screenings and events geared toward the idea of expanding our knowledge of resolution and advancing our ability to put our knowledge out into the world in a meaningful way.
The center will collaborate with universities worldwide, in joint projects. The Leon Charney Resolution Center also includes a large digital library with documents, images and movies which will help all visitors expand their knowledge of negotiations, peace and resolution tactics worldwide.
Select students will work with the Director of the center, Dorit Long, to produce segments for The Leon Charney Report airing in New York, New Jersey, and nationally via DirectTV. Ms. Long is an Emmy Award winning producer who worked for ABC News for over two decades, covering the Middle East. "We hope to lay a foundation enabling the next generation to break the vicious cycle of violence and distrust," she said about the center. "The voices of reason and compromise must be heard over the shouts of hatred and fear. We can no longer allow ourselves to be led by the extreme, but rather find our center."
The Leon Charney Resolution Center is set to launch on Thursday, January 21, 2016. Please visit http://www.charneyresolutioncenter.com for more information.
About The Leon Charney Report
The show airs Sundays on NYC Media, Jewish Life TV and WMBC TV. With more than 800 interviews since it first broadcast in 1988, the Leon Charney Report provides insight from a wealth of prominent guests including Jimmy Carter, Rudy Giuliani, Eli Wiesel and more from key figures in politics, entertainment and business.