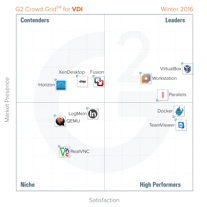 Chicago, IL (PRWEB) January 21, 2016
G2 Crowd, the world's leading business software review platform, today released the Winter 2016 Virtual Desktop Infrastructure (VDI) Software GridSM report to help businesses make the best technology decisions. VirtualBox, VMware Workstation and Parallels Desktop were named Leaders in the report, receiving strong customer satisfaction scores with a large market presence. Additionally, Docker and TeamViewer were named High Performers, earning strong customer satisfaction scores with a smaller market presence. VirtualBox earned both the highest overall satisfaction score and the highest overall market presence score.
The GridSM leverages customer satisfaction data reported by authenticated users along with vendor market presence determined from social and public data. Based on a combination of these scores, each software solution is categorized as Leader, High Performer, Contender, or Niche.
Key Findings:
The Winter 2016 VDI Software GridSM Report revealed these high level insights about the VDI software market as a whole:

Customizations and compatibility — The ability to customize virtual environments beyond the operating system with more granular settings like CPU configurations was a sought-after feature for VDI software. Additionally, reviewers responded favorably to cross-platform VDI solutions.
Many, many use cases — The technology behind the software in this category allows users to solve a wide range of business problems, often within the same product. Reviewers appreciated products that take advantage of this and offer an expanded feature set. Many reviewers also reported using multiple products within the VDI category thanks to their broad applicability.
--- MORE ---
Virtual Desktop Infrastructure / Add one:
Learning curves are steep — Users of proprietary VDI products said the software is difficult to navigate and configure. Users of open-source products criticized the poor user interfaces and a lack of documentation. In both cases, users often complained the software in this category is difficult to adopt.
About the VDI Software GridSM report:

The report is based on nearly 200 reviews written by business professionals.
Of the roughly 50 products listed in G2 Crowd's VDI category, the ranked products each received ten or more reviews to qualify for inclusion on the GridSM.
About G2 Crowd, Inc.
G2 Crowd, the world's leading business software review platform, leverages more than 50,000 user reviews to drive better purchasing decisions. Technology buyers, investors, and analysts use the site to compare and select the best software based on peer reviews and synthesized social data. Co-founded by the founder and former executives from SaaS leader BigMachines and backed by roughly $12 million in capital, G2 Crowd aims to bring authenticity and transparency to business technology research. For more information, go to G2Crowd.com
Follow us on Twitter or connect with us on Facebook or LinkedIn.
For more information, please contact:
Adam Beeson, communications director for G2 Crowd, 847-867-0048, abeeson(at)g2crowd(dot)com