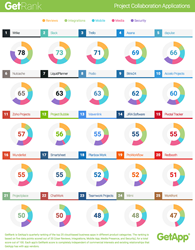 (PRWEB) January 22, 2016
GetApp continues to add to its growing list of rankings aimed at small and medium-sized businesses looking for the best cloud-based solutions for their company, this time with a new ranking for project collaboration.
In the newly released Q1 2016 ranking of top project collaboration solutions, Wrike has topped the list in its 4th category this quarter, with the popular Slack and Trello coming in a close second and third. Wrike also leads the rankings for project management, project portfolio management, and task management software.
As with every ranking, the GetRank for project collaboration is based on five data points– user reviews, integrations, mobile app availability, media presence and security– each scored out of 20 for a possible maximum score of 100.
Reviews are based on the number and average ratings of reviews on GetApp, while integration scores are calculated based on the number of integrations listed on GetApp. Mobile scores are pulled from the Apple App Store and Google Play, based on the availability and score of mobile apps, while security is calculated from a vendor-completed security survey based on the Cloud Security Alliance's Self Assessment Form. Finally, media presence is based on the number of Facebook followers and Twitter fans that an app has.
Wrike scored highest for user reviews with 149 reviews at an average rating of 4.38/5, while Slack took the lead for its number of integrations and a strong social media presence, although 4th place Asana outshone Slack with a slightly bigger following on social media. Trello scored major points for its popular iOS and Android apps, while 18th place Planbox Work took the top spot in security with a high score of 18/20.
"With big names like Slack, Trello, and Asana making headway in the business cloud-software space as well as the mainstream media, it's more important than ever for smaller project management and collaboration software vendors to get their names out there. Building a strong community around project collaboration software, as well as having a fully functional product that can compete with the modern design and usability of today's leaders, will help smaller competitors gain recognition in this burgeoning space," says Suzie Blaszkiewcz, researcher and project manager for GetRank.
Click through to see the entire Q1 2016 GetRank of top project collaboration solutions.
More about GetApp: GetApp, a Gartner company, is the leading premium business app discovery platform on the web. Headquartered in Barcelona (Spain), GetApp serves as a platform for user-generated and editorial reviews of software and apps for businesses.